Summer is here, the sun is out and holidays are back. Let's talk about hair removal for bikini lines and of course Brazilians!
In this article, we're going to look at the best epilator for a Brazilian – but if you're not quite ready to commit to a Brazilian – check out our best epilators for bikini line hair removal here.
If you're ready to jump right in and are looking for the very best brazilian epilator that you can use for full body epilation too, check out our best overall recommendation below.
Braun Silk éPil 9 – Best All-Round Body Epilator for a Brazilian
You'll probably already know the difference between bikini line hair removal and a Brazilian but just in case…the former is anything outside the bikini line (or from a little bit inside to be thorough), and a Brazilian is everything off except for a landing strip.
What a lot of people don't know is that you can use an epilator to get rid of any unwanted hair from this area. It's a lesser-known method than waxing or shaving, and there are always plenty of questions on the how and the why.
So let's dive straight into this complete guide for using an epilator for a Brazilian.
What to Look For in An Epilator for a Brazilian
You may be coming into this with personal preferences on epilators. Many people have tried-and-tested favorites. Some opt for elite technology, and some focus on aesthetics and design.
But when it comes to shopping specifically for a suitable device for the bikini-zone there are a few more things you need to take into account.
Size matters here!
Many high-end epilation devices are marketed on the merits of their head size. These epilators are good if your plan is to double up and use them on other body parts. For Brazilian purposes, you'll want something narrower, or something that comes with a narrow cap. This gives you infinitely more control when targeting trickier areas.
Corded or Cordless – Important to Consider
Some people prefer corded epilators so they don't have to worry about charging them up or getting caught out with no power.
But, for the purposes of Brazilian epilation, it makes sense to choose a product without a cord. This means fewer restrictions on where you can use it, and let's face it, giving yourself a Brazilian is not something you can do standing in the middle of your living room!
Which Epilator is Best for Pubic Hair?
To help you figure out your perfect match, we've compiled a list of the best epilators for a brazilian here:
Products:
Braun Silk-Epil 5 Epilator With Trimmer – Best Epilator and Shaver for a Brazilian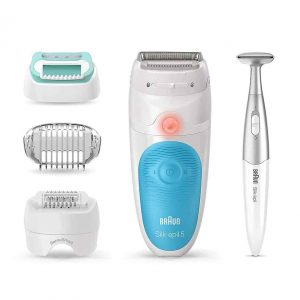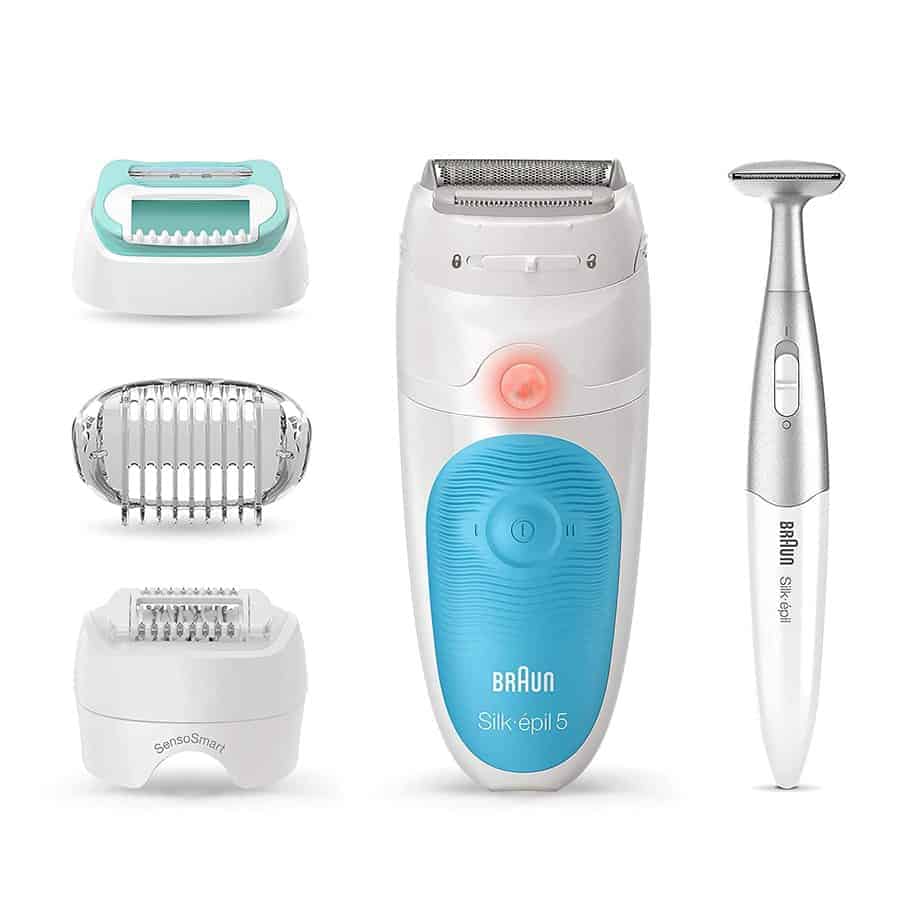 The Braun Silk-epil 5 is one of the most affordable Braun epilators, allowing you to buy into high-quality technology without having to part with too much cash at the start of your epilating journey. It comes with a bikini trimmer, which is convenient, but maybe not an essential accessory if you're planning to get rid of all your pubic hair.
It comes with two epilating caps: a standard skin-contact cap, and a beginner cap. The beginner cap comes with a row of small plastic teeth along the bottom, which is fantastic for picking up shorter hairs, and hair in less accessible areas. The Silk-epil 5's rubber handle is also good for improved grip which lends confidence, especially as you can use it in the shower. Being a wet and dry epilator, you don't have to worry about cords and plugs.
It also includes a trimmer comb which is a perfect addition for comfortable epilation. Epilating long hair hurts!
The epilation head itself has a built-in massager to make the whole experience as comfortable as possible. Overall, this is a good investment and can be used not only for a brazilian but also if you plan on using an epilator for your whole body.
Philips Satinelle Advanced Hair REmoval Epilator – Most Comfortable Epilator for a Brazilian
The Philips Satinelle Advanced Epilator is of a similarly high quality to the Braun épil 5 but has an entirely different aesthetic. It's slim rather than chunky, and sleeker in design. It has a slimline handle that makes it really easy to hold and maneuver instead of the rubber type panels.
Its caps are also more streamlined, with a specific precision attachment for hair removal in the bikini zone. If you are only interested in an epilator for a Brazilian, the included caps won't matter much. The sensitive cap however is particularly narrow, allowing you to target smaller areas of hair growth without accidentally verging over the line – (great for shaping).
Philips has used unique ceramic plates in this epilator which are designed to be gentle on the skin. Many reviewers have described it as one of the most comfortable epilating experiences they've had. Additionally, it is a cordless epilator, so can be used wet or dry.
Get More Info and Read Reviews

Emjoi eRase e60 With Shaver – Best Emjoi Epilator for a Brazilian
For such a tiny epilator – the Emjoi eRase 60 packs a lot of features, not to mention power.
One of the most notable features is the dual opposed rotating heads, which help pull the skin taut as you epilate. The beauty of this design is that it aids in minimizing pain and is to be welcomed by nervous newbies. It also aids with fast epilation as the two heads can cover a large surface area making this a clever and convenient device for epilating a full Brazilian.
The Emjoi range is lesser-known in the world of beauty technology as compared with Braun or Philips, none-the-less, they do produce seriously powerful devices. The Emjoi eRase 60 contains 60 tweezer discs, where most brands like Phillips and Braun only feature 30 or 40.
This epilator also claims to remove hairs as short as 0.3mm where 0.5mm is as low as many other epilators on the market can go. The advantage of this is that you can tackle your hair removal anytime you want. You don't need to wait to have to grow out unwanted body hair.
The Emjoi eRase 60 is a very affordable epilator, lower in price than the leading manufacturer's models but not the cheapest you can find. This is a solid, "bang for your buck" epilator that delivers reliable results and should last you a long time.
Check out the video below to see the Emjoi eRase 60 in action – ** use on dry skin only ** as its corded. Will not suit if your epilating spot is not close to a power outlet.
Epilady Speed Corded Epilator – Best Cheap Epilator for a Brazilian
At just 4 inches high, the independent epilator brand Epilady lends itself perfectly to bikini-zone hair removal. There's no need to fiddle about with attachments as the standard head is perfect for the smaller and more intimate areas.
With just 40 tweezers, the Epilady Speed is light-weight and easy to hold and use. It also has a slow speed setting, which you may find easier and more approachable if you're just beginning.
This is a straightforward and practical product. It doesn't come with the bells and whistles offered by more mainstream models, but its simplicity allows it to stay at a wallet-friendly price we're sure you'll be happy with.
The only downside to this epilator (if its a downside for you) is that it's a corded device. You'll need to sit near a power source to epilate as you can't use it in the shower or bath.
The Epilady Speed is a great "test run" or gateway option for those that want to experiment with epilating without a big cost at the outset.
Amazon have got a nice comparison with similar products here – scroll to the bottom of the page to check it.
Epilating vs Waxing Pubic Hair
Although the process is slightly different, both methods are doing the same thing in removing hair from the root. The big difference is how the hairs are gripped and pulled. Both methods do share some similarities –
Both epilating and waxing remove the whole hair shaft, rather than severing it above the surface like shaving does
Both hair removal methods provide long-lasting results, usually around three to four hair-free weeks
Both enable the hair to grow back finer, softer and slower.
Is Epilating or Waxing More Painful
While the physical mechanic of pubic hair removal is not that different, the notable differences between epilating and waxing lie with the experience. This is one of the most sensitive areas in the body so you will feel some level of pain or discomfort.
For starters, epilating is slower, requiring you to roll the device over the area, whereas waxing removes sections in a flash.
Which method you prefer will likely depend on your pain tolerance. Waxing is probably as high as you can get on the hair-removal pain scale; epilating is lower, but takes more time. Some people find epilation easier to deal with because it's a less speedy, less intense process that's a lot easier to control.
With waxing, you've just got to breathe and rip off the waxing strip just like a bandaid! With epilating, you can try different areas and pressures, and take your time if you prefer.
When it comes to the pain factor between the two methods, the short answer is, you might still feel some discomfort with epilating, but it's spread out, on a lesser scale, and it's a bit less of a shock!
The Benefits of Epilating – What Epilating Can Do That Waxing Can't
In the epilating vs waxing debate, there's one trump card that epilating will always have: the shortness of hair you're able to work with.
If you're a regular waxer, you'll know the annoyance of that final week where your hair is getting noticeably long, but you can't remove it, as it needs to be at least ¼ inch long, or roughly two weeks' growth from the last time you removed it, for the wax to be able to stick to it.
An epilator allows you to remove hairs just millimeters short – some as short as 0.1. Try turning up at a waxing appointment with hair that short and see what the technician says!
Competition aside, epilators and wax don't need to be enemies. In fact, they make a great pair. Waxing is a quick and easy way to rid intimate areas of all hair – especially easy if you're paying someone else to do it. But keeping appointments is time-consuming, and booking them monthly gets expensive. You can use an epilator to substantially extend time between waxes, by using them to tidy up between appointments.
If you can get by with doing most of the bikini area yourself with an epilator at home, you'll be able to visit your waxing salon for a full Brazilian much less frequently.
As both procedures work to weaken the hair follicles, as time goes on, you should be able to space out your appointments more and more, and save money in the long run.
Can You Use an Epilator for a Brazillian?
It is completely possible to use an epilator for a full Brazillian but be advised, pulling pubic hair by the root can hurt – a lot! The pubic area is one of the most sensitive areas of the body. There are more nerve endings the further in you go from your bikini line/inner thighs, so this is always the most painful area.
One concern a lot of people have is about the safety of epilating pubic hair and if it is safe to do so.
Rest assured you can totally epilate pubic hair but as we've mentioned, the pubic area is very sensitive so there will be a level of pain involved.
Each person is different. Some will be more sensitive than others, some will struggle more with rashes, bumps or ingrown hairs, and some have much thicker or denser hair.
The two most important points to remember to ensure your safely and that you won't have any difficulties when epilating –
Always follow the manufacturers instructions – for example some epilators can pinch the skin if not held correctly
Good skin preparation – for example exfoliate beforehand
If your skin rarely reacts to cosmetic products, strain or friction, it shouldn't be too challenging.
How To Use an Epilator on Pubic Hair
There are some tips and tricks that can be carried over from other hair removal methods – if you're familiar with waxing, you might just recognise these…
Take a painkiller an hour before. Taking a paracetamol 30-60 minutes before epilating can really take the edge off the pinch.
Pull the skin taut. This stretches and enlarges the follicle that holds the hair, easing the path outwards with minimal friction.
Find your speed. It'll take some practice to find your perfect pressure and speed, but as you get more confident, each session will get quicker.
Have tweezers on standby: If you get to areas that are difficult to reach or too sensitive, don't be afraid to stop and pick up a pair of tweezers to individually remove hairs. You'll see professional waxers use this method.
One thing you can't transfer across from waxing is using moisture to dull the pain – epilating in a warm bath or shower can often be a more soothing experience.
Hold a cold pack on the skin after epilating to soothe any redness.
Remember – there's no shame in quitting: So you've paid out for an epilator, you went in with confidence, but you're not loving it and want to stop. That's really okay! Don't push through if it's causing you discomfort or stress.
You'll have better luck starting on less sensitive areas like the legs, and doing small bits at a time. And don't write it off completely. Try again next week. You and your skin will get used to it with time.
Final Thoughts on the Best Epilator for a Brazilian
For quality and effectiveness, you can always rely on Braun for professional-level epilating at home. But there are lots of great models out there depending on your specific needs.