Facial steaming is such a simple and inexpensive thing to do for your skin. But it also comes with a surprising range of benefits. There's a reason steam saunas are so popular in Scandinavia (and why Scandinavians are famous for their beautiful complexions!).
The Newbealer Hot and Cold Facial Steamer is a nano-ionic, 3-in-1 solution and has been designed to make facial steaming easy, luxurious, and more targeted than the standard at-home method of a bowl of hot water and a towel over your head. It engenders what the manufacturer refers to as 'intelligent steaming'. In addition, it provides a wealth of features you won't get from a simple bowl.
Classic Design – Nano Ionic Home Facial Spa
Newbealer Facial Steamer 3-in-1 Overview
This at-home facial steaming device combines three indulgent uses:
a facial steamer
a household humidifier
an aroma diffuser
When you're not using it to open and cleanse your pores, you can leave it on in the room to diffuse moisture into the air.
You can also use it to disperse scents of your choice, by placing oils or even dried flowers in the provided compartment.
Physically, the steamer is around the height of an open laptop. It has an angled steamer nozzle that focuses directly on the face and neck.
It's elegant in design, with white and teal casing and gold detailing. Put it this way: it doesn't look like a product you can buy for less than $50!
The Benefits of Facial Steaming
It's been scientifically proven that heating the outermost layer of the skin – known as thermal ablation, increases the skin's permeability.
This means increasing the skin's ability to absorb moisture and topical skin care products. It makes a huge difference to the effects and longevity of your creams, moisturisers, serums, and oils.
It is especially important if you're spending lots of money on high-end products. Without maximising your skin's ability to absorb and disperse them, you won't be getting the most bang for your buck.
As well as delivering this crucial advantage, facial steaming can also:
Open the pores to release trapped dirt, oil (sebum), bacteria, and dead skin cells. This can be especially useful if you're experiencing a breakout.
Soften blackheads, making it easier to extract and get rid of them.
Promote circulation, which delivers a boost of oxygen to the skin.
Deliver anti-ageing benefits. Increased blood flow also promotes the production of collagen and elastin, crucial proteins for keeping the skin young.
Relieve congestion caused by colds by clearing the nasal passages and relieving pressure on the sinuses. This can also help with the pressure headaches you sometimes get when feeling under the weather.
Be used in combination with sheet face masks and even hair masks to get the best out of the products.
Enjoy a Spa-Like Experience at Home
Newbealer Hot and Cold Facial Steamer Features
Major benefits of the Newbealer steamer include:
20 minutes of hot steam time (more than enough for safe steaming)
70 minutes of cold mist diffusion
A special compartment for adding essential oils (or dried flowers as the manufacturer suggests). This allows you to upgrade your steam to a spa-like aromatherapy experience, and use ingredients that have added nourishing benefits for the skin.
Because of its design and the angle of the steam nozzle, this device can easily double up as a hair steamer. Steaming the hair can help to unclog pores on the scalp to facilitate healthy growth. It can also help to open the cuticles in the hair, allowing conditioner to penetrate more deeply.
What Makes the Newbealer Face Steamer Stand Out?
It's a Hot AND Cold Facial Steamer Too!
Naturally, there are many steaming devices on the market, ranging from cheap and cheerful to extremely high-end technology.
This product isn't the most elite beauty device money can buy. But its function is simple, and arguably, you don't need to spend hundreds of dollars on something that works in a very similar way to your kettle.
With all that being said, this does come with an added bonus. One of the stand-out benefits of the Newbealer Facial Steamer that sets it apart from many others on the market is the cold misting function.
When switched to this setting, it distributes chilled water particles that are useful for several purposes:
Soothing inflamed or sunburnt skin. It won't heal sunburn, but it will cool the outer layer of the skin, and significantly increase your comfort levels. Follow with chilled aftersun cream while the skin is still damp for the best results.
Dampening the skin before using hydrating products, which aids the absorption of moisture.
Tightening pores leading to a smoother, more even appearance in skin tone, and helping keep out intrusive dirt, oil, or makeup particles.
Soothing redness and swelling after procedures. This could be anything from microdermabrasion to dermal fillers. The cool mist function can be incredibly helpful if you're keen to bring swelling down as quickly as possible. With this option, avoid adding anything like essential oils to the water in order to keep wounds clean.
Thanks to the large 180ml water tank, this cold option can last for up to 70 minutes at a time.
Other Stand-Out Features Worth a Mention
Adjustable Nozzle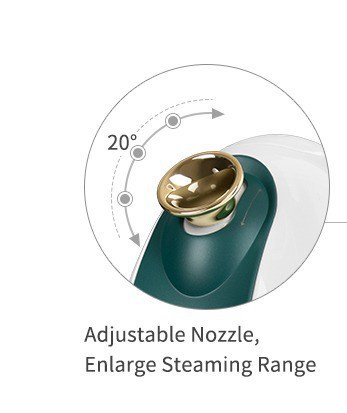 We LOVE the adjustable nozzle – it just makes steaming your face that bit more comfortable. It might not sound like it matters much, but it's definitely a nice feature. You're not tied to having to find a flat surface at exactly the right height.
It's particularly useful if you plan on steaming your hair. A handy cover comes in the box to keep dust out when not in use.
Aromatherapy Basket
The option of being able to add essential oils sets the Newbealer steamer apart from many of its rivals.
Most facial steamers diffuse hot steam only. With this model, you have both hot and cold, very fine mist for better penetration, as this is a nano-ionic steamer. Diffuse your favorite smelling oils around the house.
Not only can you use essential oils in the basket but you can also add dried flowers or herbs.
Headache after a long day? steam with peppermint. Menthol can help ease the pain. Use lavender oil or dried lavender for a calming and relaxing atmosphere. Steaming with rosemary can help hair thickness and growth as well as improving memory. There's really no end to the benefits and possibilities for using.
Nano Ionic Hot and Cold Facial Steamer for Home Spa
Facial Brush Included – Bonus!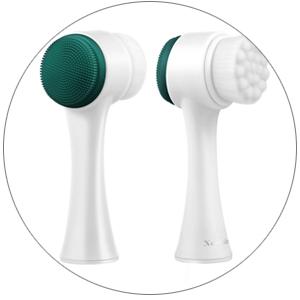 Yes, the value keeps on coming – this steamer comes with a double-sided facial cleansing brush.
One side is soft silicone for gentle exfoliation, can be used often for face washing and before steaming. The other side is made of micro-fiber bristles and can really help with deep cleansing pores.
Is it the best facial cleansing brush on the market? Probably not. But when it comes included with the face steamer, it is definitely a useful bonus.
Is the Newbealer Face Steamer Worth the Money?
In conclusion, the low price point of the Newbealer facial steamer bodes very well given the convenience and multi-functionality the device lends. Sure, you could steam your face with hot water and a towel cover, but it's awkward, less targeted, and doesn't feel especially spa-like!
Purchasing this device is an affordable way to level up your skincare game. The ability to add essential oils elevates the spa experience, making you feel that bit more pampered. Don't forget it comes with a bonus facial brush to really clean your skin.
Perhaps the biggest advantage of the Newbealer hot and cold facial steamer over the standard at-home hot water bowl method is safety. The regulated temperature means there is a very low risk of overheating or burning your skin. The safety instructions also provide guidance on how to use it, and how far away to position your face.
All in all, it's one of those rare beauty finds that's both luxurious and affordable.