Having already used a friend's face steamer for another post on the best steamers, I was somewhat familiar with the Okachi Facial Steamer.
Nonetheless, I was delighted when a rep from Okachi got in touch and asked if I would do a full review. I don't know anyone who doesn't like getting new beauty products or tools, especially gratuitously so I was really looking forward to getting and using this again.
Face steaming is a fairly recent addition to my skincare routine but honestly, it's something I should have started years ago. My skin is really oily and even with age, my face glistens after a time. It hasn't really dried out very much – which is a good thing I'm sure (unless you're constantly mopping up oil!).
Having oily skin during my teenage years resulted in large pores and I could have done a lot more to improve them looking back. Unfortunately, I was quite lazy and a cleanser and moisturizer were about all the products I used.
Probably even then, I should have used better, more targeted products to improve the texture and tone of my skin and help with breakouts. Now I'm much more aware of the benefits of steaming your face, I endeavor to include it in my skincare routine at least once a week.
Okachi Face Steamer Unboxing
The Okachi facial steamer comes really well packed, in a neat, small box. The steamer box is packed along with filler inside another box to avoid any damage in transit. It's easy to carry holding the hard plastic handle. The face steamer and other contents are held in place by a cover, made from a kind of egg carton material.
The steamer itself is individually wrapped in plastic with bubble wrap protecting the cosmetic mirror to keep it closed. All in all, it's completely secure.
What's In The Box
This is a simple face steamer and very easy to use. You'll be happy to know there are no complicated buttons or attachments.
Once you open the box, you'll find
The facial steamer itself with the power cord attached. Water tank enclosed.
A 5-piece stainless steel blemish and blackhead extractor kit
A cute bunny headband with ears
Instruction booklet
Warranty thank you card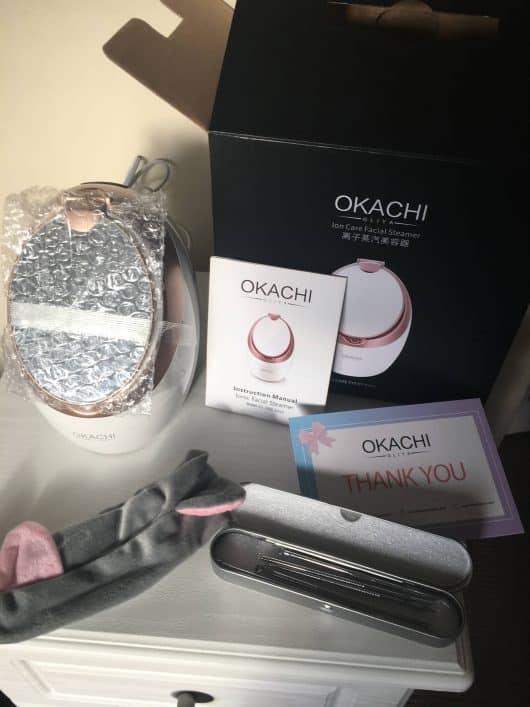 Okachi Glyia Facial Steamer – First Impressions
The Okachi face steamer is not as tall as some of the other face steamers on the market which might make it easier to store. It's got a really cool aesthetic, shaped more like an egg. It looks good, is of solid build quality and the rose gold trimming has a classy, feminine feel to it. Many of us don't have a lot of extra room for gizmo's or gadgets so this is ideal for anyone short on space and looking for a small facial steamer.
One feature I particularly like is the cosmetic mirror. The Okachi steamer appears to be one of only a few steamers with this feature. It's handy to have although not particularly necessary but it is useful if you store the steamer on a dresser or shelf. It can work in place of having a stand-alone or fixed mirror. It's also moveable so you can adjust if using to apply make-up or pluck eyebrows. It's easy to move it about for better lighting for these purposes too.
The steamer looks easy to use as there are no moving parts as such. It's always a good idea to read the instructions before using to make sure you understand how to use it safely. After all, we are dealing with hot steam!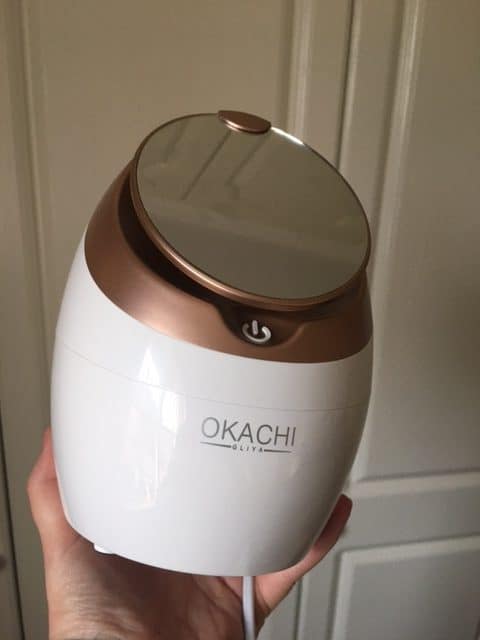 Benefits of Face Steaming
Face steaming has lots of benefits. Take a second to think about it – the feeling of hot mist over your face itself can help you relax, de-stress and wind down. It's definitely something to add to your self-care arsenal, for the pampering feeling alone apart from any benefits to be had for the skin.
Face steaming helps the skin primarily by opening the pores. The effects when pores open results in many positive effects for the skin and a clearer, more radiant complexion.
How does steaming help the skin?
Pore Cleansing – Warm steam helps to stretch out pores and release any dirt, oil, or grime that has built up. Blackheads get softer as a result of this deep cleansing and so are easier to remove.
Reduces Excess Sebum – Glowing skin needs sebum to stay lubricated and healthy but blocked pores trap sebum and can lead to breakouts and acne.
Helps Get Rid of Bacteria – Sodium from sweat caused by steaming helps to kill off bacteria which can cause acne
Easier Product Absorption – Skincare creams and serums are better able to penetrate the skin once the pores are clean.
Promotes Better Circulation – Warm steam combined with perspiration dilates blood vessels and so increases blood flow. This boost in circulation carries more oxygen, nourishing the skin helping with a more radiant glow.
Hydrates the Skin – Steam adds moisture to the skin keeping it hydrated with nano steam particles able to penetrate skin 10 times more effectively than regular steam particles.
Premature-Aging – An accumulation of dead skin cells on the surface of the skin over time can lead to signs of premature aging. Steaming helps to soften up the outer layer of skin, helping the skin's natural ability to turn over new skin cells faster.
Anti-aging – Helps with the production of collagen and elastin, 2 vital proteins required for firm, plump and younger-looking skin and which deplete with age.
How to Use the Okachi Facial Steamer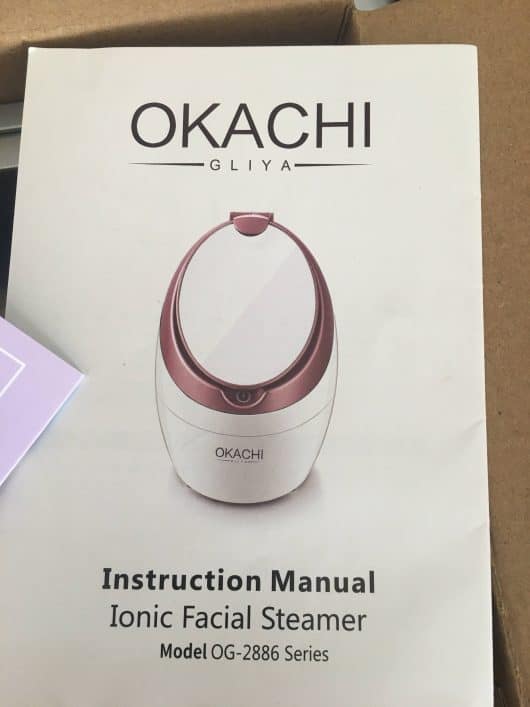 Unpack your steamer and have a read of the instructions, paying particular attention to operating safely. Cleanse your face and neck, tie back your hair and follow along below:
Place Steamer – Put the steamer on a stable flat surface to perform a steaming session.
Release Water Tank – Look at the top, back part of the steamer to where it says "press" and press down to release the water tank.
Fill Water Tank – Unscrew the cover and fill the tank to the 80ml mark. Distilled water is the recommendation to prevent corrosion and ensure a long life for your steamer. Screw the top back on.
Insert Tank – Insert the tank into the steamer and press down to secure.
Lift up the mirror so you can see the LED light and on switch
Power – Plug in the steamer
The LED light will start to flash so you're ready to go
Switch on – When you're ready, press the on button
After approx 30 seconds, steam will begin to blow out gently with full steam power around 50 seconds
Make sure to keep your face at the recommended distance of 8 inches. Holding your face too close to the hot steam is dangerous and can result in burning.
Steamer runs for just under 15 minutes and will cut off automatically when it runs out of water preventing injury. The LED light will start to flash, signaling the steamer has cut off.
Leave the steamer to cool down for about 10 minutes before shaking out any drops from the water tank as well as the steamer itself.
Splash your face with lukewarm water after your steam session and pat dry or spritz with a cooling water mist. Apply your favorite skincare products now such as masks or serums and finish your routine with a moisturizer. If your skin is lacking moisture, it can produce more oil naturally, to compensate, and more oil can lead to clogged pores.
My Face Steaming Experience –
There's no doubt that steaming has had a positive effect on my skin. Although I cleanse my face twice a day to get rid of dirt and make-up, taking the time once a week for a deep cleaning can really help get rid of the grime that daily cleansing won't get to.
My complexion looks brighter and my skin feels softer, really clean, and refreshed. I've noticed my products are more easily absorbed too making them even more effective at doing the job they're supposed to do and not just sitting on the skin's surface. It's done wonders for my large pores besides.
I am currently steaming along with using Paula's Choice BHA Liquid Exfoliant and I can really see a difference. This is suitable for all skin types but especially for oily skin to get right down to unclog pores.
You don't need to be an expert to reap the benefits of face steaming but you should be careful not to overdo it. Using a steamer more than twice or three times a week could lead to pores drying out and more oil building up. More oil can lead to clogged pores so a vicious circle may begin.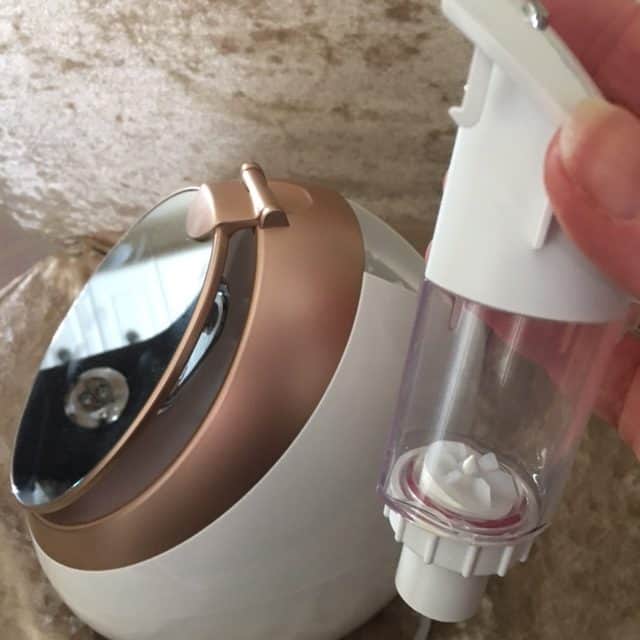 Is The Okachi Glyia Facial Steamer Worth Buying?
This is a really easy-to-use steamer. The instructions are clear and easy to follow and the water tank is easy to find and fill. A steaming session only takes about 15 minutes and is easy to add to your skincare routine at least once a week. I find I tend to do it around every 5 days or so.
I found the steam itself was just right for me, not too hot but hot enough. It delivered a consistent stream for the duration and was really pleasant and relaxing. The steam particles are what's called nano ionic. They are finer and have up to 20 times better penetration than regular steam particles.
I did contact Okachi to ask a question and to check how long it took them to answer me. I find this is a great measure of the customer service you can expect and I was happy to find they responded quickly.
Don't forget this steamer can double as a humidifier which can be useful to add moisture to the air, particularly in the winter months when heating is on. Dry air is known to cause problems for people with dry skin or respiratory problems.
Even using it as a face steamer can help relieve sinus problems.
Large 80ml water tank for 15 minutes of steam
Thumbs UP From Me
I would have no hesitation in recommending this facial steamer. It's easy to use and store and gives just under 15 minutes of strong steaming mainly due to the large 80ml water tank. Most other at-home facial steamers have smaller tanks and may last for around 10 minutes.
I, however, aim to use this for my legs to help with ingrown hairs. Once of course, I find a low flat surface to place it on so I'm happy with the few minutes of longer steam time.
.There are numerous benefits from face steaming providing of course you don't over steam. Even professionals recognize the benefits, after all, it is the first step during a facial at a salon or spa. A really deep cleanse of the skin is important before applying other products or treatments. Don't forget the treat of having a face sauna!
There's no doubt about the value an at-home facial steamer can add to your skincare routine.
Okachi Face Steamer With LED Cosmetic Mirror – Alternative Model
Okachi have a slightly different model available where the cosmetic mirror has an LED light around it.
This is a great feature if you could be using the steamer mirror for applying make-up. It's equally helpful for checking the skin in bad lighting.
With great reviews too, it's almost the same price as the one above on amazon. You'll see a small icon on the mirror if it is the LED version as in the pic above.