The Emjoi Emagine AP18 epilator has been around now for a few years and is one of the most popular epilators on the market. It has a 72 disc tweezer head which, when it first came out was considered exciting and innovative. But where does it stand now in relation to the wide range of epilators available?
Emjoi as a company are leaders in personal care products. Their aim is to find solutions to our demands for professional results from the comfort of home. Unique technologies play a big part in how well their epilators work for long-term and effective hair removal.
Here, we'll take a close look at the Emagine model, and see what you get for your money. We'll also try and cover the questions you might have so at the end of this article, you can decide if indeed the Emjoi Emagine is the right epilator for you.
Models Available: Corded or Cordless? The Choice is Yours
One of the biggest decisions you will need to make when you are looking to buy an epilator is whether to buy a corded or a rechargeable one. There are pro's and con's with either so you will need to give consideration as to where and how you will use it. There is no point opting for a corded device if you want to use it in the bathroom and there isn't an electrical outlet close by.


Corded – Red Emjoi Emagine
The good news is that the Emjoi Emagine AP-18 is available as both a corded epilator and a rechargeable one.
The corded model is the dark red one and usually the one that most frequently pops up if you've been doing any research online on the Emjoi Emagine.
You can use it at either 110v or 240v as it comes with a worldwide power cord, making it convenient to travel with.
It originally only came with a US power cord but you will need a universal adapter if you are traveling outside the USA.
With the fact that it is corded – you get full, consistent power throughout the time it takes you to epilate whatever body parts you plan on doing. A sustained power source is really important in epilation, especially if you are a newbie as hair removal can be a slow process to start with. Hair regrowth is slower and more sparse so once you do get going with epilation, it's really easy and so convenient to continue.
Click Here To Check Today's Price on Amazon

Cordless – Purple Emjoi Emagine
The purple Emjoi epilator is designed for both corded or cordless use. Model no. is AP 18R.
You can enjoy the best of both worlds with this one – it offers much more portability and convenience. Charge it up and epilate wherever you want or if you forget to charge it fully, simply use it while it's plugged in.
The cord supplied is for use in the USA only.
I can't imagine why someone would want to purchase the corded only model when this rechargeable one is available. However, I guess you might if it's only ever used while right beside a power source or if you need a device that will be used on a different voltage. Either way, consider which one would suit you better.
Click Here To Check Today's Price on Amazon

Emjoi Mens Epilator – AP 18MS
Men too are looking for other more convenient ways of hair removal. Just like women, they don't want to have to shave constantly or go to the bother of getting waxed. Emjoi have spotted this demand and brought out a version of the Emagine to suit. This is essentially the same model as the red one above, just in black. I guess to make it more appealing to men.
Just like the red model, it is corded. In addition, it comes with a shaver attachment which is a very handy accessory. Apart from that, everything else is the same.
This particular epilator is currently unavailable and despite contacting Emjoi customer service, I was unable to find out if or when it will be back in stock.


The 4 Must-Know Features of The Emjoi AP18
72 Tweezers – Faster Epilation
One of the main features of the Emagine is the 72 tweezers– more tweezers than the other models, arranged in 2 rows or 2 heads.
72 tweezers mean quicker epilation as more hair is pulled from the root with each pass. This feature might not matter that much if epilating underarms is your primary purpose. However, if hair removal on the legs is paramount, then the more tweezers, the better!
Since hair does not grow uniformly, the tweezer design is such that hair growing in all directions can be plucked.
Each tweezer disc consists of one set disc and 2 others that move in and out on either side. If you can imagine, the motion is kind of like seaweed wafting in sea water.
Dual Opposed Heads – For More Comfort
The tweezer discs are set in 2 heads which Emjoi call dual opposed. This means they rotate in opposite directions with the aim of targeting the comfort and pain factor. When they rotate this way, they are gently stretching the skin taut, and this is how it helps to reduce pain. More surface area is covered with each pass – again ensuring faster epilation because the discs are staggered.
Patented Technology To Reduce Ingrown Hairs
Emjoi use Glide Technology to reduce the possibility of ingrown hairs and lessen irritation. Middle "lifting fingers" gently lift up very short and flat hairs, as short as 0.5 millimeters so they can be pulled from the root by the tweezer discs. This is an important feature to lessen the chance of hair breaking and grow back more quickly.
Antimicrobial Protection – A Must for Sensitive Skin
Emjoi have employed Silver Ion Technology in the Emagine AP-18 epilator to help keep the skin free from infection. If you have very sensitive skin, it is worth remembering this feature as the Emagine is the first epilator in the world to have this.

What's Comes With The Emjoi Emagine
It's good to know in advance what exactly you will get, should you go ahead and purchase the Emjoi Emagine epilator. It's not always clear, especially when you are shopping online what comes in the box and if there is a need to purchase anything extra. So when you buy the Emagine, you will get
Epilator device itself – the red one is corded and the purple model is rechargeable
Worldwide power cord (110v / 240v) – for the red one and the purple is designed for 110v
Cleaning brush
Storage pouch
Protective cap
Exfoliating pad

A Closer Look At The Emagine
Shape and Design
The look, design, and shape of the Emjoi Emagine is pretty similar to a men's electric shaver. In fact, at first glance, you could mistake the men's black epilator for an electric razor. It's an attractive looking device. The purple and red colors are vibrant and the material used is a hard, glossy plastic.
The ergonomic design fits the shape of the hand. It's slimmer at the bottom and the head section is wider at the top for balance. It's a good, solid device and with 72 tweezers makes the task of removing unwanted hair a breeze – not without a little discomfort though!
The head itself is curved slightly to make it easier for the unit to glide along the contours of the body. This helps with catching the hairs as they grow in various directions.
The Emagine AP 18 has two speeds as well as a safety switch lock located on the front of the epilator. To switch it on, press the safety lock and slide it up to the desired speed setting – 1 or 2.
The lower speed will suffice for fine hair, but turn it up to the higher setting for coarser hair.
Start with the lower setting if you are new to epilating. You can get a feel for how the epilator operates and how best to hold it so it glides along the skin nice and easily.
Instructions – How To Use It
For best results and to use the epilator comfortably, have a warm shower and make sure to exfoliate with a cream or loofah to open the pores and prepare the skin.
Always read the manufacturers instructions prior to use and pay attention to any warnings. Ensure you are aware of the right voltage especially if you are using the device overseas.
It's important that the areas you wish to use the epilator on are clean and dry. Make sure you clean off any moisturizers or creams that you've used.
Make sure your surrounding environment is at a comfortable temperature so perspiration is not an issue.
Plug the adapter plug into the bottom of the unit and plug it into an electrical outlet.
Take off the protective cap and turn it on.
Select your setting as above. Choose 1 if you are just getting started or are new to epilators or 2 for coarse hair or you are familiar with the process of epilation.
If you are using for the first time, test it out on an area that has light hair growth. Do not go all in to epilate very thick or coarse hair unless you like pain!
Hold the epilator at a 90° angle and glide it over the skin in short, brush-like strokes.
Keep the skin pulled taut to minimize discomfort. Pressing too hard against the skin can cause it to slow or stop completely.

What About Pain?
You may experience some discomfort or a little pain – especially if you are using an epilator for the first time. It's difficult to describe it, it's kind of like a prickling sensation all over. The feeling is not even that painful. It's more like an uncomfortable feeling, but I guess what can you expect when you are pulling hair from the root. Over time, however, hair regrowth is less and also finer so it does get easier. Personally, anything that can make hair removal easier, more convenient and less messy is worth a little discomfort.
Always clean after use to extend the life of the device and to keep it free from bacteria. Store with the protective cap on.
Where To Use It
The Emjoi AP18 epilator is suitable to use on the legs, arms and bikini line. You can also use it on individual hairs on the upper lip and chin.
With the 72 tweezer disc head, this is a great epilator for legs as it allows you to cover more surface area faster. The same applies to arms although it's the underarms that are more popular for hair removal. This is where the curved head comes in – as you are able to tackle armpit hair more easily.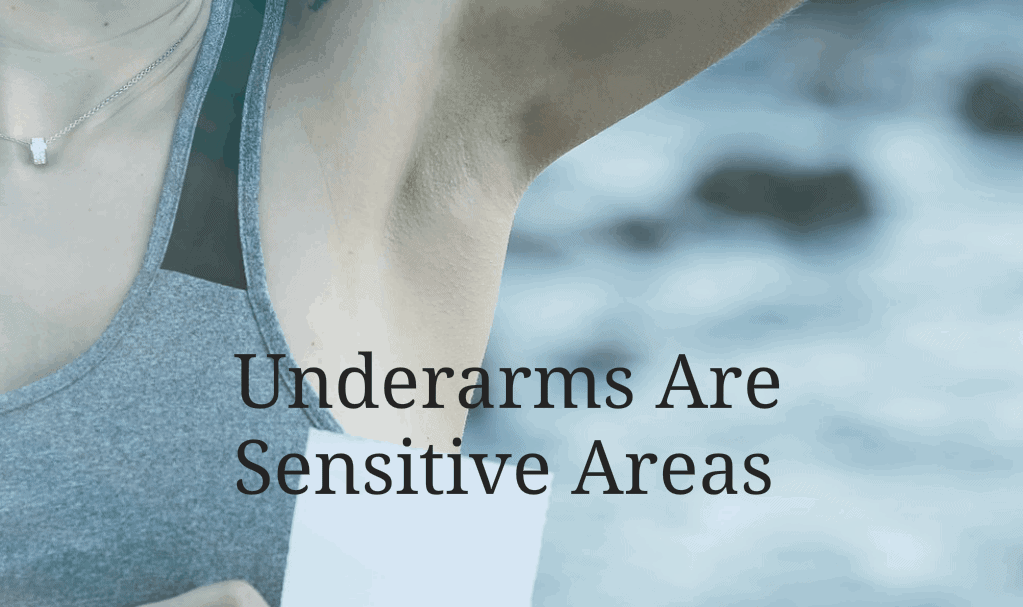 If you haven't epilated the bikini line or underarms before, make sure the hair is not too long. If you are unsure, just trim it down a little first as epilating longer hair can be more painful. Using a loofah to remove dead skin in these areas is vital to prevent ingrown hairs as these areas are particularly sensitive.
Hold the Emagine so only one row of tweezers comes in contact with the skin when using it on the face. This way you can reduce the chance of pinching the skin. Do not use this for all over facial hair removal as it is not intended for use that way as per the manufacturer. If you are looking for something specifically for facial hair, check out the Emjoi Epi Slim 18. It's a smaller device with less tweezers and is battery operated.
How To Clean The Emjoi Emagine
Always clean the epilator after use to ensure optimal results and that you get the best out of the device for as long as possible.
Turn off the epilator and disconnect if from the power supply.
Press the release button on the front of the unit just above the on/off setting to detach the head and squeeze both sides to remove the disc cover.
Use the cleaning brush that comes in the box to brush out any little hairs that catch in the discs.
To remove residue and to keep the epilator sterile, use a q-tip dipped in a little rubbing alcohol to gently clean the tweezers. Make sure it's not overly saturated.
Replace the disc cover and the epilator head, they easily click back into place and store with the protective cap on. This helps to keep the unit clean and free from dust.
Are Replacement Heads Available?
It is possible to buy a replacement head for the Emjoi Emagine AP18 should anything happen the device outside the warranty period which is 1 year. Would it be cost effective however is something worth considering. Prices change all the time and special offers are often available so it could be a better option to just buy a new unit.
Another optional extra available to purchase is a shaver head. Again, how useful would this be for you?Combined with the epilator itself, price wise, is it a good deal for you? It's handy to know though that you do have the option of buying one if you so wish. Some people prefer to use an epilator on certain body parts only and a shave other areas so it's really a personal preference.
Opinions on The Emjoi AP18
Having gone through hundreds of reviews online, the overall consensus is favorable. People who purchased the Emagine were largely pleased with the product and the results they obtained from using it.
I'm often surprised when researching products that people leaving reviews are actually talking about the same thing. How is it that one person can have such amazing results where a product is concerned yet the next person is of such a vastly different opinion?
Negative Comments
Some of the less positive reviews mentioned that the unit was not that powerful. It was unclear which model was being referred to but since the red one is corded and can only be used while connected to a power source, it must be the purple model – AP18R. This one can also be used while plugged in but you do have an option to charge it up and use it without the cord.
Over time, rechargeable devices do lose the capacity to function at 100% but this is a process that happens slowly. Charging for at least 16 hours before the first use is recommended. Subsequently, 8-16 hours charging after each use is recommended to prolong the battery life. Incidentally, the red charge light seems to stay on constantly.
Another point mentioned more than once was that users experienced hair breaking as opposed to it being pulled out by the root. This, of course, would result in hair growing back faster and you would not get the silky smooth legs you were looking for which must be frustrating. One possible explanation for this is user technique since the Emagine does have "lifting fingers" that help to lift up short hairs for plucking. It's important to hold the epilator at a 90° angle and glide it along.
Positive Comments
Some customers said the Emjoi Emagine Epilator was better and less painful to use compared to other epilating devices they had used previously. Some people who had experience with several epilator brands remarked how they found the Emjoi epilators in general the most comfortable to use in terms of pain.
The effectiveness of how the epilator removed hair impressed many and the change was significant, especially having used it a few times. Many commented that the results were long-lasting, and their skin remained hairless for several weeks. It takes around 4 -6 weeks for hair to grow back once removed from the root.
Pro's
72 tweezer disc head – faster epilation
Corded and cordless model available
Nice shape, easy to hold
Painless technology
Con's
No light
No sensitive cap – harder to do the bikini area or face
A bit noisy
No extras although a shaver head is available to purchase separately
In Summary – Is The Emagine AP18 For You?
The Emjoi Emagine Epilator is a decent model epilator based in the mid to higher price range.
Although packed with many features, it is worth emphasizing the pro's and who this is not for:
Faster Epilation – More surface area covered per pass with the 72 disc tweezer head – takes less time to epilate overall
Pain Reduction – dual opposed heads and antimicrobial protection.
If you are looking specifically for an epilator for the face, this is not for you. Hair removal from the upper lip and chin are the only recommendations and there are better options available to remove facial hair.
Apart from the face, you can use this anywhere else including the bikini line. This is for dry use only so if you like to epilate in the bath or shower – this unit is not for you.
Both corded and cordless versions are available so you can choose which one suits you better. Think about convenience and where you will be using the device primarily.
The big question and decider for me is the price. This is available at various different price points online and to be honest, I think I would only purchase this if I found it at a good price.
I like the fact that you have a choice as to a corded or cordless model. The epilator is a good size, it looks smart, is easy to hold and it's a great epilator for the legs. However, I wish it had a light and a sensitive cap.
In conclusion, the Emjoi Emagine is neither the best value epilator on the market or the best overall epilator, however it is a good epilator if you find it at a good price.
For Today's Price
on Amazon
For Today's Price
on Amazon