The Phillips Santinelle Essential HP6401 is a great affordable epilating option. It strips away any of the unnecessary features you can find with other epilators and leaves you with the functions you actually need. This epilator will leave your legs silky smooth by removing hair at the root, keeping your skin hair-free for longer.
You might be skeptical as to how well this actually works due to its low retail price but in this review,
we'll help you decide if the Philips Satinelle HP6401 offers great value for money or whether it's just a cheap beauty tool only fit for the bin after one use.
Features and Benefits
Ergonomic Design
The Philips Satinelle Essential epilator is a neat shape and is easy and comfortable to use. Its ergonomic design ensures efficient epilation.
The device is a small and round, flat, shape that fits perfectly in the palm of your hand. It has an added grip surface at the back, so it's easy to hold. It's a light-weight epilator so handy to pack on your travels and it doesn't take up much space.
CLICK HERE To Check Today's Price on Amazon.com

Corded Epilator – Full Power
The Essential HP6401 is a corded epilator and works on 100 to 220-volts.
It must be plugged in, in order to operate and the power cord is pretty generous at 3 ft long.
There's nothing worse than having a device with a cord that pins you to use it in an exact spot because it's too short! You get full continuous power while epilating, no need to worry about having to charge it up before use. It's the lack of battery that makes this epilator as compact and light as possible.
Dual Speed – For All Hair Types
This Philips epilator has 2 speeds so it is suitable for all hair types, those who have both fine hair as well as thicker hair, adding to its flexibility. The lower setting is a gentle speed for finer hair. It's also suitable for those just starting out with epilating as well as for use on sensitive areas. This setting delivers 600 tweezes per second and the second delivers 733 tweezes per second. It works as effectively on coarse leg hair, as it does on finer underarm hair. Start on the slower speed if you are new to epilating and work up to the faster setting once you get used to it.
Tweezer Count – Only 21
The Philips Satinelle HP6401 will not win any awards for the tweezer count. Having just 21, it's actually one of the epilators on the market with the lowest number of tweezers.
When you consider you can get a device like the Emjoi AP18 which has 72 tweezers, you'll see how this compares. Of course, the Emjoi eMagine AP18 is a more expensive option also. It can, however, pluck hairs as short as 0.5 mm from the root.
So what does a low tweezer count really mean when it comes to removing body hair?
As you can imagine, having more tweezers, more hair is plucked from the root with each pass. More hair removed equals less time spent epilating. The pain associated with hair removal also has an impact as you will need to make more passes for a thorough result and more passes can mean more discomfort.
Easy To Clean
The Philips HP6401 doesn't come with a brush for cleaning, something you'll find included with other epilators such as Braun.
Instead, the epilating head is removable which makes cleaning the device just as easy. It's simple to remove the head and easy to wash under running water. You could always use a toothbrush if you needed to get in at any stay hairs caught in around the tweezers.
Make sure you pat it dry with a clean towel so the tweezers don't corrode and become rusty. Cleaning properly after each use will ensure a long life.
Accessories – Efficiency Cap
The lack of accessories is what makes the Philips Satinelle HP6401 an affordable epilator for the masses. It's nice to get some extra's with a purchase but the bottom line is how useful any extras really are. Whilst the Satinelle HP6401 doesn't come with much, it does have an efficiency cap which will make it easier to epilate with and help reduce the pain of epilating. It's a nice feature for someone new to epilation.

Where to Use The HP6401 Epilator
This is recommended for use on the legs and body according to Philips. There are some limits to the areas of the body where this epilator won't work as well due to the lack of tools and extra attachments. Some epilators come with a sensitive cap for example for using on the bikini line or underarms. It's not an absolute necessity but can be a useful addition.
With 21 tweezers, it will fit in around the smaller areas of the body such as the underarms. It is advised however not to use it on the face. Using an epilator on areas like the bikini line and the underarms can be more painful but it all depends on your tolerance to pain, rather than because it is unsafe.

How To Use The Philips Satinelle HP6401
The HP6401 epilator is easy to use, just connect the cord to the wall socket. Make sure the skin is clean and dry before starting. It is easier to remove hair after a bath or shower since pores will be open. It is, however, important to ensure the skin is completely dry and free from grease or moisturizer.
Hold the device at a right angle, 90 degrees to the skin
Move it against the direction of hair growth
Stretch the skin taut with your free hand. This will make sure the hairs are standing upright and you won't nick your skin. You may need to go over the same area a couple of times, depending on the hair growth direction.
Always use the efficiency cap if you are a novice to epilating or if you are using it on a delicate area
Once you have gotten used to the sensation you can try the device without the cap. It is recommended, however, to continue to use it on delicate areas as well as for hygiene reasons.
When you have finished, unplug the cord, remove the head and rinse it under the tap until there are no hairs left in the device. The whole process is easy and doesn't take long, perfect for those in a hurry.

Philips HP6401 Satinelle Epilator Demo
After use, you may find red spots where the hair has been plucked out. These normally fade away after a short while.
Many people prefer to epilate in the evening so their skin has a chance to recover and be smooth and spot-free in the morning. Make sure to moisturize after using the device to soothe the skin and avoid it drying out.
The more you use the epilator the longer your skin will stay smooth and the less time it will take overall. On average it's three to four weeks before the hair grows back to a noticeable length. Epilating will not only delay hair growth, meaning smoother legs for longer, but it will also grow back finer and will hurt less and less each time you use it.
EPILATING IN THE EVENINGS IS RECOMMENDED TO GIVE YOUR SKIN TIME TO RECOVER
Performance
Don't let this product's affordability fool you into thinking it won't perform well.
Even as a budget option this is a fantastic product.
The Phillips Santinelle Essential HP6401 has glowing reviews across all platforms, with people praising the quality of performance, alongside the ease of use as well as the affordable price.
A downside to this epilator is that it can be noisy. However, noise won't affect the performance of the product or the results.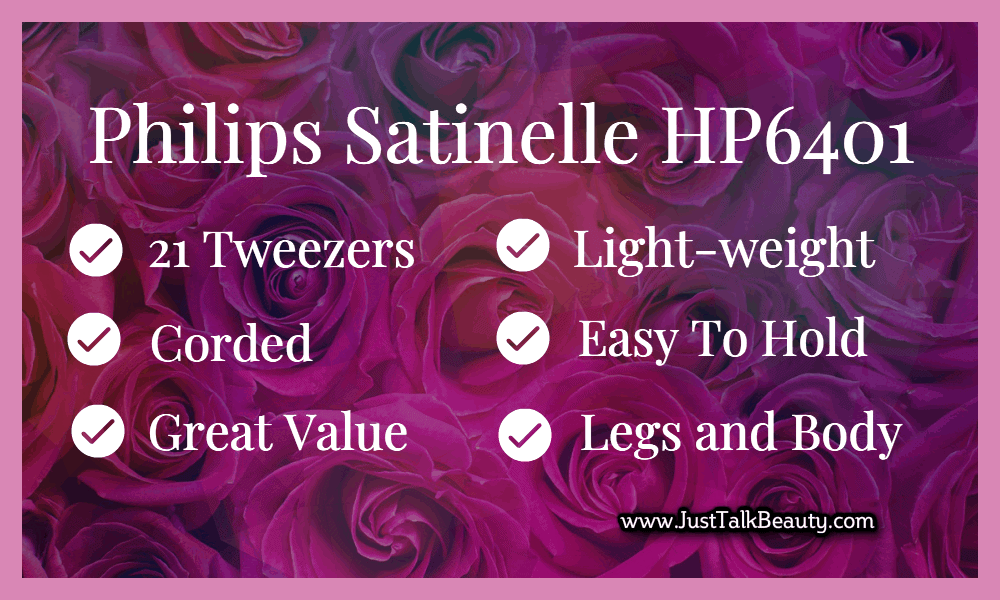 What's in the Box
Not a whole lot extra comes in the box, along with the epilator itself. You get the efficiency cap, the charging cord and an instruction booklet. For the price and the quality of the product, the lack of extra accessories and travel case is understandable.
It comes with 45-day money back guarantee from most retailers and a 2 year manufacturer's warranty.
Who Is It For?
The back to basics design, with fewer tweezers and a lack of accessories, make it perfect for beginners looking to test out epilating without having to spend a whole lot of money.
This is a great replacement for both shavers and waxing. It's more cost-efficient than either and will give long lasting results. It is suitable for use on both coarse and finer hair because of the 2-speed setting. It is also equally effective at removing all hair types

What do Consumers Say?
The Philips Satinelle Essential HP4601 is one of the most popular epilators you can find, mainly due to its value for money and affordable price tag. Lots of women in online reviews were happy with how the epilator could pluck hair off various parts of the body, not just their legs and arms. Some mentioned getting good results from using it on their underarms and bikini line also. Although not recommended for facial hair removal, some consumers did, in fact, use it in this way, however, there are much better options available, one example is the Emjoi Epi Slim e18.
The biggest complaint consumers had about the device was that it was much noisier than some of its rivals. But would it wake a sleeping baby or give the user a headache? The noise was actually compared to a small lawnmower! In addition, the uncovered blade like tweezers were deemed a little scary in one review.
The pain of epilation is a common complaint and most people can expect some level of discomfort, particularly first-time users. It can feel a little bit like an electric shock as 21 small tweezers work away at your skin in one go!
Wet and dry epilators that can be used in the shower are said to be less painful to use since warm water helps to open the pores. But having a bath or shower directly before epilation has the same effect. Even those who did complain of pain found that the redness wore down within 30 minutes even under the arms. It wasn't uncomfortable enough that it was thrown to one side, never to be used again.
It appears none of the consumers missed the little additional accessories like a smart light to help find fine hair or indeed a massager head. If you're new to epilation however and budget conscious, you might not be aware that these type of extras exist. For the price and the quality of the product, extras are nice but not that important to the consumer.
Overall the feedback online is very positive. The HP6401 Satinelle might not be as powerful a device or have the extra accessories of expensive rival epilators, but it offers smooth hair removal and is simple to use. Many people have praised the lightweight compactness of this epilator and its convenience for traveling.
Pros and Cons
Pros
Ergonomically designed and easy to use
Light-weight and compact
Two different speed settings depending on the thickness of the hair
21 tweezers will grip hairs and pull them from the root
Comes with a 2-year warranty
It has a protective cap so won;t pinch the skin
Easy to clean and doesn't cause any mess during use
The cord is suitably long
No batteries to replace
Very good value for money
One of the cheapest epilators on the market
Cons
Noisy
No smart light to see finer hairs
Can take more than one pass to remove small coarse hair
Recommended not to be used in sensitive areas
Cannot be used on wet hairs, due to safety concerns
No travel pouch or brush

Verdict – Is It Worth It?
In conclusion, the Philips Santinelle Essential HP6401 is a great first-time option for someone looking for an epilator at a really reasonable price. It's hard to part with your hard earned cash if you're not sure epilating is for you. It's not a process for everyone and no one likes to waste money.
Don't let the low price fool you. This is a great epilator that may lack some of the singing and dancing features of other devices, but it will deliver comfortable and efficient epilation. It is a compact and travel-friendly device. The only real downside to this apart from the number of tweezers is the noise. You could however put on ear-phones while using it!
Philips Satinelle Essential HP6401
To read reviews and get more info