Up until recently, microdermabrasion was something you could only access in clinics, and by spending a lot of money too. Nowadays however, you'll find a wide array of devices you can use to reap the benefits of brighter, clearer, younger-looking, and more glowing skin at home. You can save a fortune – not to mention the savings in time.
The Microderm Glo Diamond Microdermabrasion System – if you'll excuse the long title – is one such device. It's affordable, attractive, lightweight AND with rave reviews on its Amazon page.
But there is something particularly impressive about the Microderm Glo that adds a whole heap of credibility to its claims – it was developed by ex-Apple designers.
Everyone knows that Apple is one of the most selective and leading-edge employers in the world, so this is a huge plus point for the presumed build quality of Microderm Glo devices.
It's also clear that usability has been taken into account – from the ergonomic teardrop shape for easy maneuvering to the fact it can be charged up and used portably. When it comes to at-home beauty technology, build quality is what it's all about.
So here, we'll take a closer look at the functions, features, and efficacy of this hand-held microdermabrasion device and check what online Microderm Glo reviews are saying.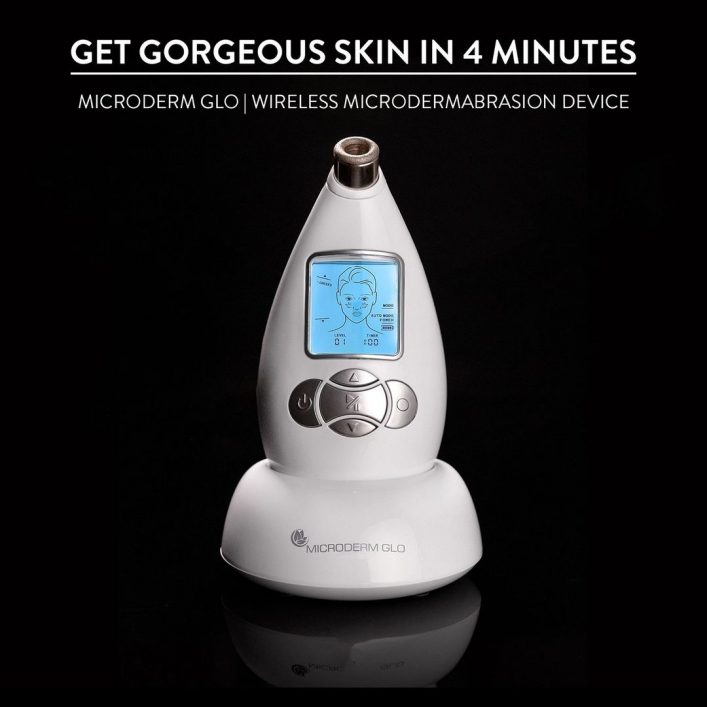 What is the Microderm Glo?
This palm-sized, futuristic-looking gadget is a multi-benefit beauty tool that sloughs away dead skin cells and unblocks pores. It's rechargeable and wireless and is easy to hold. It comes with two Diamond Safe3D™ Tips. This is medical-grade patented technology and combines with a powerful suction action to give healthier, cleaner, rejuvenated skin.
For those unfamiliar with microdermabrasion, it's a process that uses ultra-fine crystal particles (in this case, diamonds) combined with a vacuum to remove dead skin cells.
The result is brighter, clearer skin, and a very slight level of irritation (or abrasion), which triggers cell regeneration processes as well as increased collagen and elastin production, for anti-aging benefits.
For those who are prone to blackheads or enlarged pores, the Microderm Glo's blackhead suction function will be especially appealing. A major, if slightly gross benefit of the Microderm Glo is that you can see the excess sebum and dead skin exiting your complexion and funneling into the device's clear filter.
On a positive note – at least you'll know it's working!
Pros
Perhaps the biggest plus point of this handy device is the treatment time. Save yourself the salon commute as well as the 30-minute appointment. Using Microderm Glo Auto Mode, you can transform your skin in 4 minutes, in the comfort of your own home. If you'd prefer to spend a bit longer, two modes allow flexibility of use.
The skin benefits are many and varied. One or two uses a week promises to deliver:
clearer skin
brighter and glowier skin (if there's such a word)
a reduction in pore size
removal of blackheads and blemishes
improvement in skin tone and texture
a reduction in fine lines and wrinkles
improved circulation
stimulates collagen and elastin levels
reduction in age spots, sun damage, and pigmentation
Benefits can be seen straight away, but skin also improves over time
It can be used wirelessly and portably. Once it's charged, no adaptors or plugs are needed.
Cons
Some users feel there's not much guidance on technique, or how to change and clean the filters. To be honest, there really isn't much to it but luckily, these questions can also be answered by popping onto YouTube.
Despite providing medical-grade technology, caution still must be exercised. Causing abrasion to the skin should never be taken lightly. Read the instructions carefully, and make sure you roll the tip up and off your skin, don't just lift it straight off. There is a minor risk of damaging the skin and blood vessels if used improperly.
Recommended by Dermatologists – Lifetime Warranty
Where To Use Microderm Glo
This device isn't just for your face! You can use it anywhere you struggle with uneven skin texture, spots, or signs of aging. The manufacturer suggests that you start with the lower setting when experimenting on different areas of the body, and follow instructions closely.
Men who are interested in improving their skin can also use Microderm Glo. Men's skin tends to be rougher and more dense than women so often they will notice improvements faster.
How to Use Microderm Glo Mini Diamond Microdermabrasion System
Use Microderm Glo on clean, dry skin. It can be helpful to gently steam the face first to open pores but be careful not to overdo it or use too much heat. Microdermabrasion is an intensive exfoliation process and you don't want your skin to be too vulnerable prior to treatment. A patch test prior to going all-in is recommended just in case you are sensitive to the diamond abrasion.
On the main body of the teardrop-shaped device, select the power level. 1 is the low setting, indicated by a red light, and 3 is the higher setting, indicated by a blue light.
Apply the tip of the device to the surface of your skin, and gently move it across your face using short, even strokes. Don't "dot" the tip on and off – rather keep it flush against the skin . Use the premium tip for easy to access areas like the cheeks or forehead. The finer tip is more suitable for around the nose area.
That's it! It's a great idea to apply a moisturiser or serum after treatment to rehydrate and protect.
Note: Any form of microdermabrasion is not advised for anyone with active acne, eczema, or rosacea.
Another thing to note is that you won't need to use chemical or mechanical exfoliators in between treatments. Too much exfoliation is not a good thing!
How Often Should I Use Microderm Glo?
Be sure to only use the Microderm Glo as needed – never daily. Once or twice a week should be enough to keep your pores clear and your complexion smooth and exfoliated. Any more, and you risk stripping the skin of its natural oils and protective barrier.
Is It Good Value for Money?
Considering a single microdermabrasion session in a clinic or salon will set you back at least $70-80 (and that's on the conservative side) this device is like buying unlimited sessions for the price of one.
Naturally, you won't get the exact same technology or intensiveness that you would get at a clinic. Not to mention the professional application. But if you can master your technique, you're definitely in for some huge savings.
Microdermabrasion treatments can vary in quality from a dermatologist to a beauty salon or spa. In fact, a couple of user reviews we came across mentioned they were happier with the results from Microderm Glo as opposed to results obtained elsewhere..
Reviews
The online reviews are largely positive. Apparently over 180,000 people have used Microderm Glo at Home System to improve the texture and tone of their skin. Users love how easy it is to use and a large majority are quite impressed with the results. In fact, the users who are happy with the Glo are VERY happy.
Several users pointed out the importance of following the instructions carefully and moisturizing after use to avoid drying out the skin. It seems to be going from strength to strength with users raving about it all over Instagram and so many users delighted with their results. A couple of users using Microderm Glo to treat acne scars also commented on how quickly their skin showed signs of improvement. One user even referred to it as her magic wand for skin!
Verdict
Naturally, the Microderm Glo's suction is not as strong as professional microdermabrasion as technology of that strength requires professional application. But considering the thoughtfulness of the design, the quality of the materials, and the ease of use, this is a fantastic tool that delivers what it promises across two beauty-boosting uses.
Another plus with Microderm Glo is that it comes with a lifetime warranty. You're covered should you have any problems or your device stops working, which is pretty amazing. After all, although you'll get tonnes of skin benefits,, this beauty tool is not cheap.
Where to Buy Microderm Glo
You can find the Microderm Glo and Microderm Mini microdermabrasion devices on Amazon, as well as several other online websites such as Walmart but the best deals and offers we've come across, are from the manufacturer's website MicrodermGlo.Com
For starters, they have free shipping, normally – (at least they have at the time of writing and have had for some time) – they also run discounts pretty often with the code freely available on their website.
Another plus is the offer of skincare bundles. Not only have you the option of buying the Microderm Glo on its own but you can get a lot of value if you purchase any of the products together.
They have a combination of cream, serum – developed by dermatologists, a facial cleansing brush and face steamer as well as replacement filters. Overall you'll find amazing value, better than found elsewhere. Don't forget about the lifetime warranty either which is available on other products in addition to the Microderm Glo.