While looking around for a good chemical exfoliant for oily skin, something that would help to minimize my pores, I came across Paula's Choice 2% BHA Skin Perfecting Liquid Exfoliant. Since skin perfection is indeed something I could really improve on, I decided to give it a try. There's a lot of hype online about this exfoliator and I was excited to see if it would make a difference to my skin's appearance.
Large pores have haunted me since my youth when I neglected to really take good care of my skin – and with oily skin too – you can imagine! I wanted to get right in there and give my pores the deepest clean they ever had.
I had come across Paula's Choice products before but honestly, with so many skincare products and brands, I just hadn't gotten around to trying any out.
Short on time? More info on amazon or visit Paula's Choice here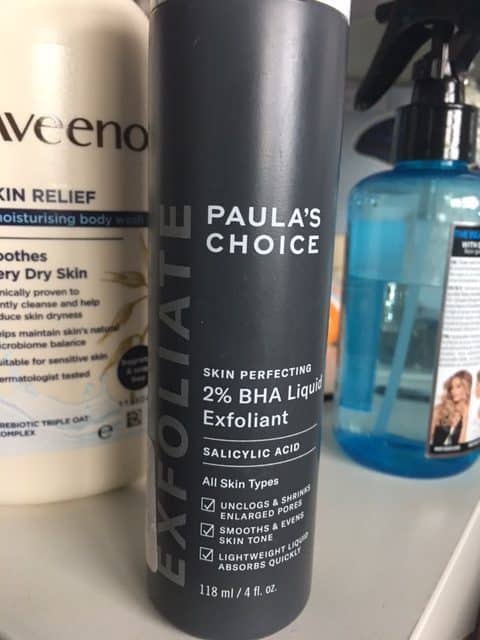 What is Paula's Choice BHA Liquid Exfoliate?
Exfoliating products come in many forms but this skin-perfecting product is a chemical exfoliator that helps to rejuvenate the complexion. If you're like me, I normally think of scrubs or brushes when exfoliation is mentioned. But this is just one type of exfoliation with such products and tools classed as physical or manual exfoliators.
Chemical exfoliants, on the other hand, are acids that break down the glue or bonds that hold the skin together, and gently clear away dead skin cells, excess oil, dirt, and other impurities.
Both types of exfoliation, physical and chemical, achieve the same purpose, which is to unclog pores when the top layer of dead skin cells is removed.
However, a chemical exfoliator is able to penetrate deeper into the pores so the results are much more effective. They are also much more gentle on the skin.
This is a leave on product – as in there's no need to rinse it off. Once applied, you leave it to work its magic.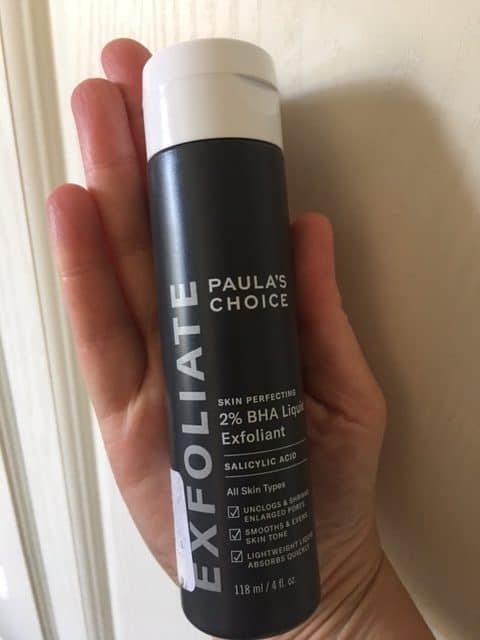 Chemical Exfoliants – AHA's and BHA's Explained
If you're into your skincare products and have come across chemical exfoliants before – you're sure to have heard about AHA's and BHA's. Paula's Choice skin-perfecting exfoliant is a 2% BHA liquid.
There's a lot to say about AHA's and BHA's and their uses in skincare products. However, for the purpose of this review, we'll only cover the basics of what they are.
AHA stands for alpha hydroxy acid and BHA for beta-hydroxy or salicylic acid. These terms cover several individual acids eg glycolic and lactic acids. They are also similar in function, working to melt away or dissolve the dead skin cells on the outer surface of the skin, unclogging and clearing pores.
Equally, AHA's and BHA's both help
to improve the appearance of fine lines and wrinkles
improve the appearance of dull, lackluster, and uneven skin tone
enhance the texture of the skin
with inflammation
to plump and smooth the skin
Aha Vs Bha
There is a belief out there that one of these acids is better than the other. Can you believe that almost 10 thousand searches are carried out every month on google for the term aha vs bha?
The truth is however that these acids while having many similarities, are different. They have different molecular structures and properties targeting differences in skin types and concerns.
Paula's Choice 2% BHA Exfoliate – It's Salicylic Acid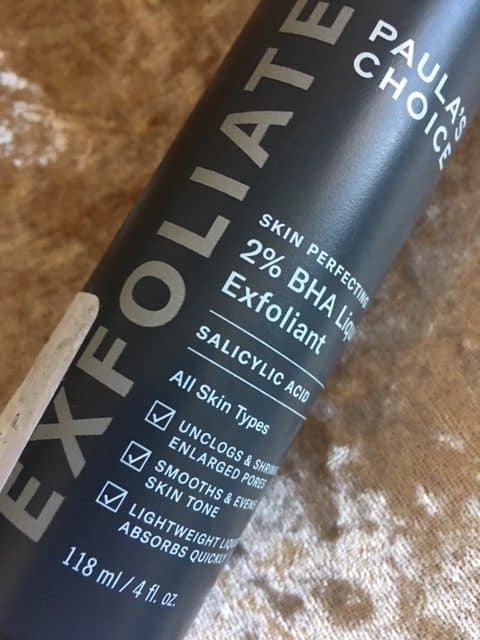 The acid type found in Paula's Choice Liquid Exfoliate is a BHA also known as salicylic acid. Yes, that holy grail ingredient that gets raved about, especially where acne is concerned.
It works wonders for blemishes, spots, clogged pores, blackheads, and whiteheads. You'll find it on the labels of many skincare products for oily skin as well as in spot treatments and additionally in skin growth and anti-aging products.
What Does It Do?
Salicylic acid is an oil-soluble organic compound. It can penetrate the skin easily and much deeper than aha acids, which are water-soluble. It gently exfoliates and helps to soften the natural protein, keratin that can cause skin cells to stick together blocking pores. It can get right down inside the hair follicle helping to deep cleanse the inner lining, removing blockages from excess oil, bacteria, dead skin cells, and makeup.
What it can do…..
Unclogs and clears pores
Minimizes large pores
Smooths and evens skin tone
Brightens complexion
Reduces the appearance of fine lines and wrinkles
You can find salicylic acid in varying strengths to suit various skin concerns but the highest strength available for home use is 2%, at least under European Regulation.
Other Ingredients – Also Contains Green Tea Extract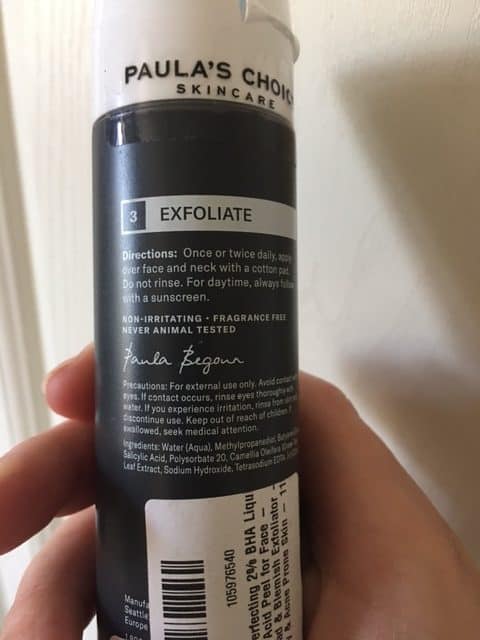 In addition to the magic salicylic acid, green tea extract is also included. Green tea leaves or extracts have been found to have many health benefits in general, from cancer prevention to weight loss, and are renowned as antioxidants.
Green tea extract is a popular ingredient in anti-aging products. It helps to protect the skin from damage caused by free radicals as well as helping to prevent the breakdown of collagen, keeping the skin firm. It also has anti-inflammatory and antibacterial properties which make it useful in calming and soothing the skin.
Another ingredient called methyl propanediol has been found to boost the penetration ability of salicylic acid, enabling it to get deep into the skin. It also has hydrating properties, helping the skin retain moisture.
Fragrance Free Formula
Paula's Choice Liquid Exfoliant Product Information
The BHA liquid exfoliator product itself is a lightweight liquid, like water really with just a very slight oily feel. It absorbs quickly which is a plus as you really don't want to have to wait around at bedtime for a product to dry or absorb into the skin, especially if you're using any additional skincare products.
The bottle I bought is 118ml. When initially researching this product and where to buy it, I stumbled across a couple of sites where the price was really good. I thought I had found some amazing deals, but unfortunately, I realised the bottle size was only 30ml.
While the availability of travel-size products is a great idea, it's not always the most cost-effective option. The bigger bottle is a much better deal. Aside from the price, it gives you a great opportunity to see how this chemical exfoliant works for your skin. Not everyone will have the same experience since our skin is unique to us.
If you have very sensitive skin though, the trial size could be a better choice, as it's possible you might experience a burning or tingling sensation. While your skin might get used to it, you might decide not to persevere and it could be a waste of money. Better waste the cost of 30ml vs 118ml!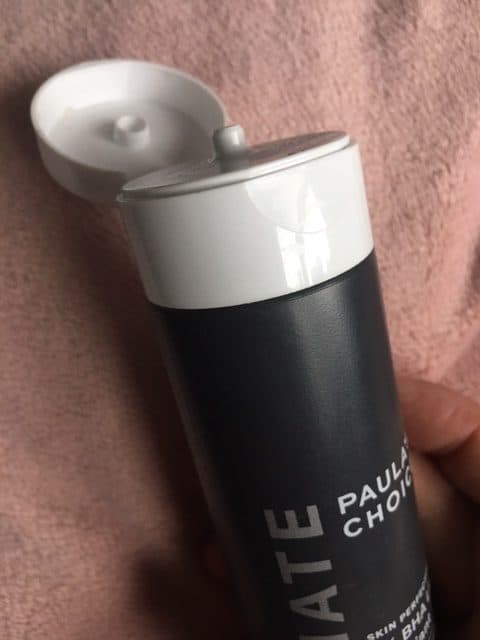 Who Is This BHA Exfoliant For?
This 2% chemical BHA product is suitable for all skin types to gently exfoliate on a deep level. But because of its ability to get really deep into the pores, it is ideal for oily skin and skin prone to blemishes and breakouts. Normal skin types can use this or aha chemical exfoliants but people with oily skin will get better results with a BHA product.
If you are concerned about any of the following skin issues, consider trying this 2% BHA exfoliant:
Skin texture issues
Large pores
Uneven skin tone
Dull
Discoloration or dark spots from faded acne
Prone to blackheads or whiteheads
Rough or bumpy skin
Dry spots on the skin
Oily Skin? Think BHA Exfoliant
How to Apply and Usage Advice
According to the bottle – once or twice daily, apply over face and neck with a cotton pad.
I was hesitant to use this BHA exfoliant so often to be honest although my skin is not sensitive. I felt like I should be really careful putting acid on my face and I held back to research if there was anything to be concerned about or side effects if using along with other products. I had come across information that using it with retinol or vitamin C could result in skin irritation
I probably used it once, at night, every other night for a good few weeks. I then increased it to most nights and continue to use it most nights. I sometimes apply it after face steaming and overall, I'd say my skin has improved immensely.
Always cleanse the skin before applying so the product doesn't have to work extra hard to get into the pores. I found I wasted some product using a cotton pad although I used it this way for a time. It's much easier to squeeze out a few drops into the palm of your hand and apply with your fingers. Make sure they're clean of course!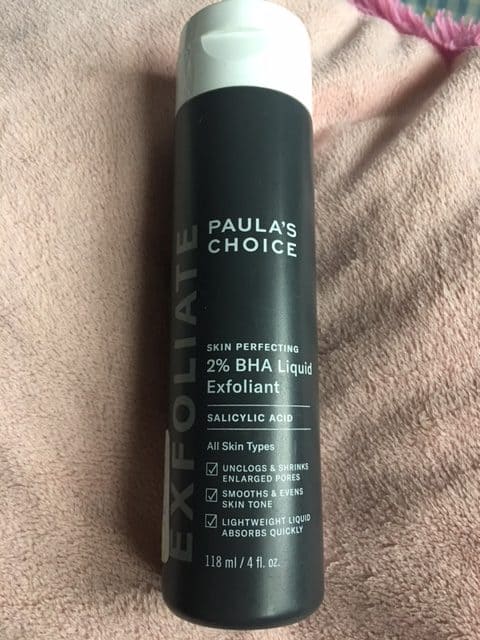 My Experience Using Paula's Choice Skin Perfecting 2% BHA Liquid Exfoliant
As I mentioned previously, my reason for buying this 2% BHA exfoliant was to see what kind of results I could get for my large pores. I hadn't really ventured into chemical exfoliants much before. Scrubs and masks were about as far as I got and I have to say that I was missing out BIG TIME!
I thought my results were pretty obvious after just a few uses and my pores definitely appeared smaller very quickly. My skin felt softer, smoother, and looked brighter, more radiant. I have one or two recurring spots that I've had for a long time that keep coming back regardless. But I do feel this product will finally see them gone forever.
One really annoying thing about having such oily skin is the slow accumulation of excess oil glistening on my face as the day goes on. While using Paula's choice bha liquid, I have to say that it doesn't feel like it gets quite so oily anymore which I'm delighted about.
Should You Buy Paula's Choice 2% Liquid Exfoliant ?
It Gets a Thumbs Up From Me
I have no hesitation whatsoever in recommending Paula's Choice 2% BHA liquid exfoliant. I think it's an amazing product – simple to use and to incorporate into any skincare routine. Plus, it's a non-irritating formula and fragrance-free. Even a large number of people with dry and sensitive skin were happy with the effects on their skin. I'm really impressed with the results and my pores have never looked better!
Just remember if you do have very dry or sensitive skin to start slowly. Use it perhaps once or twice a week to see how your skin reacts and build up from there.
Don't let the price put you off, especially if you don't spend a lot on beauty products. If you have oily skin or are prone to break-outs, it's definitely worth trying. It's also worthwhile if you have dark spots from acne scars, not to mention the benefits for fine lines and wrinkles.
Over 36 Thousand Ratings on Amazon
I'm considering using it to see how it works or if it might improve strawberry legs but that's another story!
Right now, I'm using Ameliorate which is a smoothing body exfoliant for rough, bumpy skin and ingrown hairs. You could also use this exfoliant if you are prone to spots on the back but I wouldn't' purchase specifically for that, as there is another 2% salicylic product for the body from Paula's Choice which works out less expensive.
Anything to Avoid?
There a couple of things to note to avoid any issues or skin irritation.
USE SUNSCREEN FOR DAYTIME: You can use this twice per day if it suits you to do so but if using during the day, always apply sunscreen afterward with SPF 30+ as per Paula's Choice. Alan Andersen, the Director of the Cosmetic Ingredient Review Panel has said "products containing salicylic acid should either contain a sunscreen or bear directions advising consumers to use other sun protection".
SALICYLATE ALLERGY: Salicylates occur naturally in foods but they are also manufactured artificially and found in medicine (aspirin) as well as in beauty products. If you have any sensitivity to salicylates, check with a doctor before using.
What Can You Use WITH Paula's Choice BHA Exfoliant?
When you've applied the exfoliant, you can then use your regular moisturizer or serum, Always cleanse beforehand and as mentioned for daytime, finish with an SPF 30+.
I noticed on Amazon that this was bundled with Paula's Choice 10% Niacinamide Serum Booster at a special price. It also sold as a duo on Paula's Choice.

Niacinamide is a form of vitamin B3 which can be very beneficial for the skin. It's an antioxidant that can help to block damage caused by free radicals such as stress and UV light.
It works to tighten pores too and tackle the signs of aging as well as control sebum production. It has benefits for dry skin by helping to prevent moisture loss and it also has anti-inflammatory properties, Just like the BHA 2% exfoliant, niacinamide is suitable for all skin types.
I had already purchased The Ordinary's Niacinamide 10% + Zinc serum so I've used that in conjunction with Paula's Choice BHA Exfoliant.
I've only used it a few times so far as I was unsure if the products could be used together initially.
I have to report my skin looks great and feels fantastic.
I normally wait just a few minutes after applying the BHA liquid before applying a couple of drops of niacinamide at bedtime.
Can You Use Retinol and BHA
RETINOL – I don't currently use retinol. I have seen some websites (The Ordinary) that mention not to use a BHA chemical exfoliant with retinol as it could irritate the skin.
I found on further investigating that a BHA can work along with retinol. They can complement each other and deliver great results. What is suggested however is taking things slowly, don't overdo it. If you want to use both, try it and see how it goes. If your skin doesn't respond well – you could still use both but perhaps not at the same time, in the same routine.
Paul's Choice website has some great info about using retinol with BHA here. The same goes for using it with vitamin C.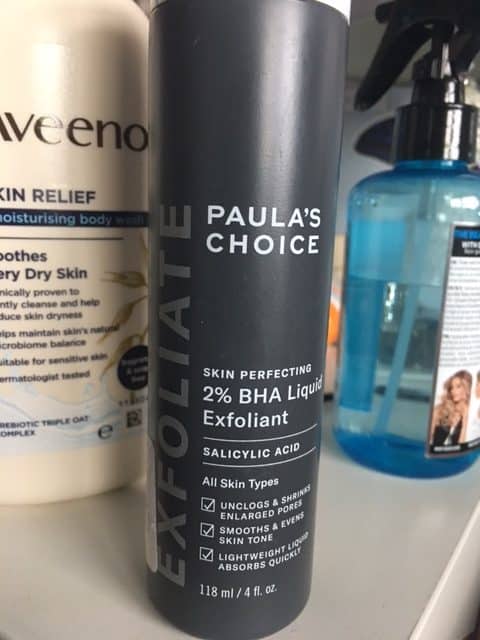 Where to Buy Paula's Choice BHA Exfoliant
You can find Paula's Choice products easily online from Amazon as well as any of the more well-known beauty shopping sites and of course directly from the Paula's Choice website.
It's a good idea to compare prices as some sites offer free shipping regardless of the amount spent while its an extra charge on other sites like Amazon, unless you have prime.
If you're a new customer to a particular site, there could be an initial welcome discount and of course the different sites have various discounts running a lot of the time.
I purchased from Amazon.com before I thought of going directly to Paula's Choice website. One thing I like about that site, in particular, is the live chat option. If you have a skincare question or would like to know more about a product, it's easy to get an answer.
Check the following sites for availability and prices.
Have you used Paula's Choice Exfoliate? Let me know what you thought….
Learn More at Paula's Choice – almost 4000 reviews
Available on Dermstore.com – over 500 reviews
Available on Cultbeauty.com – over 300 reviews