The Silk Epil 3 epilator from Braun is one of the cheaper epilating options you'll find online.
It has been a source of hair removal for women for many years now and is one of those nice surprises you come across when something works out better than you had expected.
Braun has an undeniable reputation for solid home hair removal devices, bringing a wide range of products like epilators and IPL machines to market. Given that, when I came across the Silk épil 3 at a fantastically low price, I just had to give it a try.
It's a simple device, very straightforward without any of the hi-tech or extras you'll find with some of the other epilators on the market including Braun Models.
It does exactly what it's supposed to do – remove body hair from the root, for weeks of smoother skin. In this review, you'll get an up-close look at the épil 3 epilator so you can see if indeed it will match your demand for a reliable hair removal device. Or if perhaps, it's just not sophisticated enough.
In a Hurry? Check Today's Price on Amazon
NOTE: Regarding Models
The Braun Silk Epil 3 model I am reviewing here is a raspberry pink epilator – the model is Silk Epil 3-420 and it comes with a Bikini Trimmer. It's a bit more expensive than the light pink model which is a really popular one – the model is Silk-épil 3 3-270 and it comes with a shaver head

CLICK HERE For Reviews and Info on Amazon
Unboxing – What Comes in The Box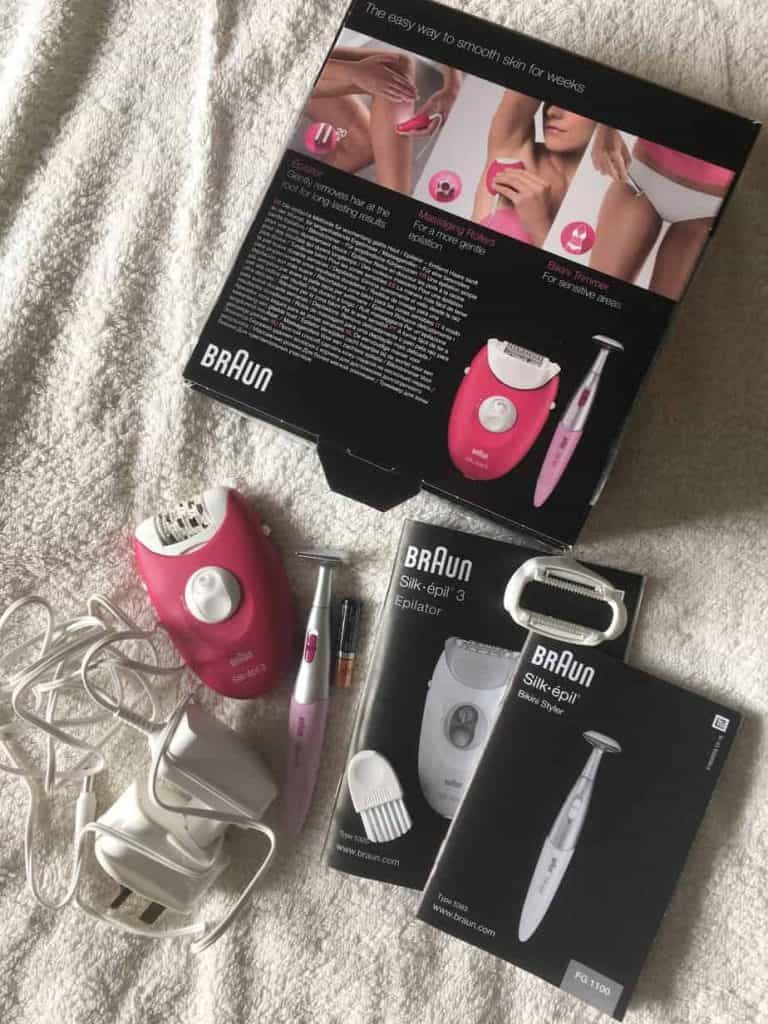 The Silk-Epil 3 comes neatly packed and includes all you need for smoother skin for weeks.
Inside you'll find:
Features and Benefits
I hadn't given any thought to the features of this epilator. It wasn't one that was on my radar as the Braun Silk Epil 7 is one of the more popular Braun epilators now. But I got it at a very low price and I just couldn't leave it behind. I wanted to see how well this particular model performed with such a low number of tweezers.
Small and Compact
The Braun Silk-épil 3 is a small, compact epilator. It fits very well in the palm of my hand. It's very easy to use and comfortable to operate the on/off button with your thumb. You'll notice it has some raised dots on the back, I guess to keep it from slipping.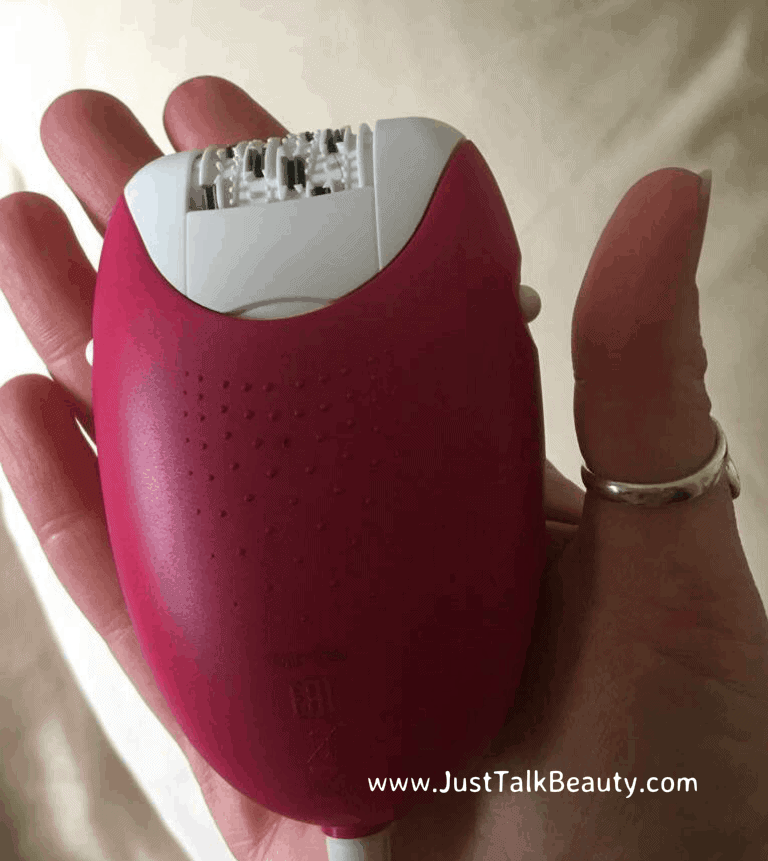 Corded Epilator
This is a corded epilator and will need to be plugged in, in order to work. In contrast to some devices, where you can find a charging port in a weird or awkward place, on the épil 3, it is conveniently located right at the bottom of the unit. The cord itself is pretty long at 6ft so it definitely is not necessary to sit on top of an electrical socket in order to get rid of your body hair!
2 Settings
There are 2 settings, normal and a little slower. Keep in mind if you are just getting started with an epilator for hair removal, start off with the lower one and once you are familiar and feel comfortable using the device, switch it up to the higher one.
20 Tweezers and SoftLift Tips
The epilating head is about 1 inch wide and has 20 tweezers that will pull out hair from the root giving you a longer period with a hairless body. If you are a shaver, you won't know yourself when you switch to epilating. You may well wonder why it took you so long. SoftLift tips are another feature that helps to raise flat hairs so the tweezers can pluck them out easily.
Massage Cap
The inclusion of an additional massage cap is a welcome bonus. This consists of two rows of rollers set onto a plastic cap that sit either side of the tweezers when slipped into place on the head.
They massage and stimulate the skin gently helping to make the task of hair removal more comfortable. You don't have to use this cap but I recommend doing so when first starting out. I also found it useful when epilating my underarms and bikini line.
Easy to Clean
A cleaning brush is included to sweep away hairs that have not dropped away during use. The head itself comes off very easily simply by pressing in on the small knobs on either side. It is not necessary to take off the epilator head but I did so after every couple of uses. I really didn't find any hair inside anyway.
One of the other models of the Silk Epil 3 comes with a shaver head so I imagine this is why it is easy to remove.
My Favourite Feature – a Smartlight
My favorite thing about this Braun epilator, apart from it's ease of use, is the smartlight. It comes on automatically when you turn on the device and will help you to see the finest of hairs.

Additional Bikini Styler
The added bikini trimmer – if you opt for the raspberry-colored Epil 3 is a perfect additional tool. I wasn't particularly bothered about it in the beginning but I have used it to trim down in the bikini area. I've also used it on my arms as I had let the hair get a little too long for epilating. It's a much easier and more comfortable experience to epilate when hair is short.
This handy styler slides apart in the center so you can insert or remove the battery. I always remove the battery after use as batteries can leak as well as in case you don't use it for a long period. It's a handy device to have – very convenient for traveling and ideal to remove underarm hair also. In fact, you can use it to remove hair anywhere, not just in the bikini area.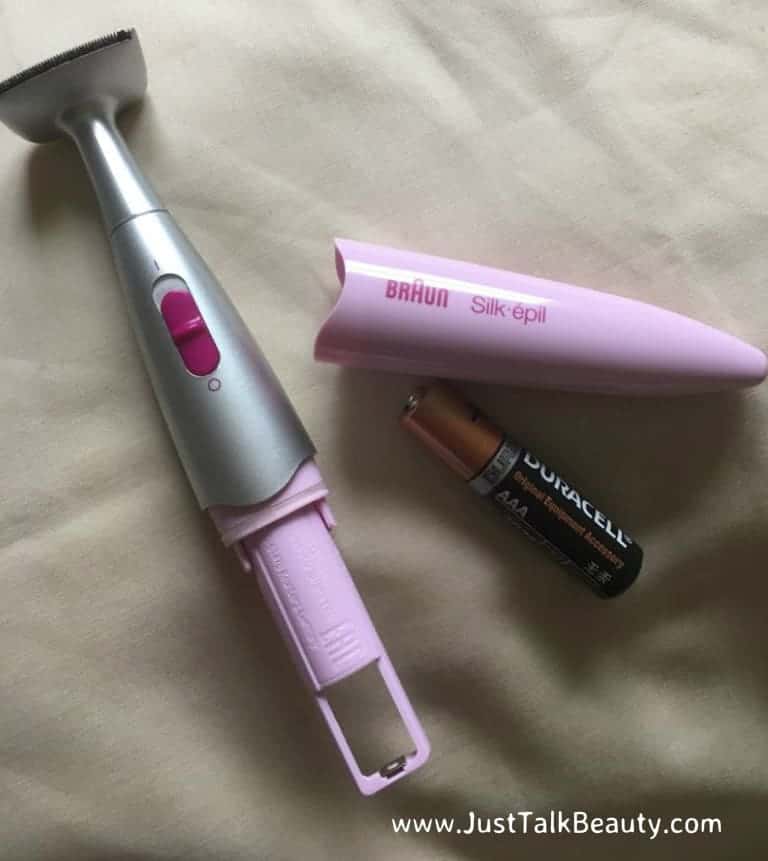 The head is contoured to eliminate hair from the body's curves and allows precision cutting, especially on the bikini line. It can also be removed for a quick clean under running water – just ensure it is completely dry before re-attaching. A drop of light machine oil is recommended if you do rinse it with water to keep it in good condition.
My Experience Using The Braun Silk Epil 3
This is really a neat epilator. On the positive side, it's small, feels sturdy and generally has a nice feel about it. With only 20 tweezers, I had my doubts as to how well this would work but I have to say I was pleasantly surprised. It moves nicely, plucking out hairs by the root. I used it all over, on my arms, legs, underarms, bikini line and face.
Pain Level
I started using this for my legs and I have to say that it wasn't painful at all. Yes, there was a sensation but definitely not painful. Epilating my underarms was fine too but for arms, bikini area and face, there was a small amount of discomfort, especially on the face and arms.
I initially used the massage cap and I did find it made a difference to the comfort level. However, after a couple of uses, I took it off while epilating my legs. I felt it worked better here without it. I did try epilating my underarms without the cap but I felt it kind of pulled at times and I pinched myself once or twice while using it here without it.
Results – Does it Work?
I got great results using this Braun Silk epil 3 epilator. It did take some time to epilate the various areas, especially starting out. I spent quite a bit of time epilating my legs. They definitely took the longest to do. However, I stuck to a weekly routine and after using it a few times, I found the overall time spent epilating was greatly reduced.
The important thing to note here is that there are only 20 tweezers. This is one of the lowest tweezer counts you'll find. Nonetheless, the unit works. The head is only 1″ wide. Hence please do consider that it will take time to completely remove your body hair – particularly in the beginning.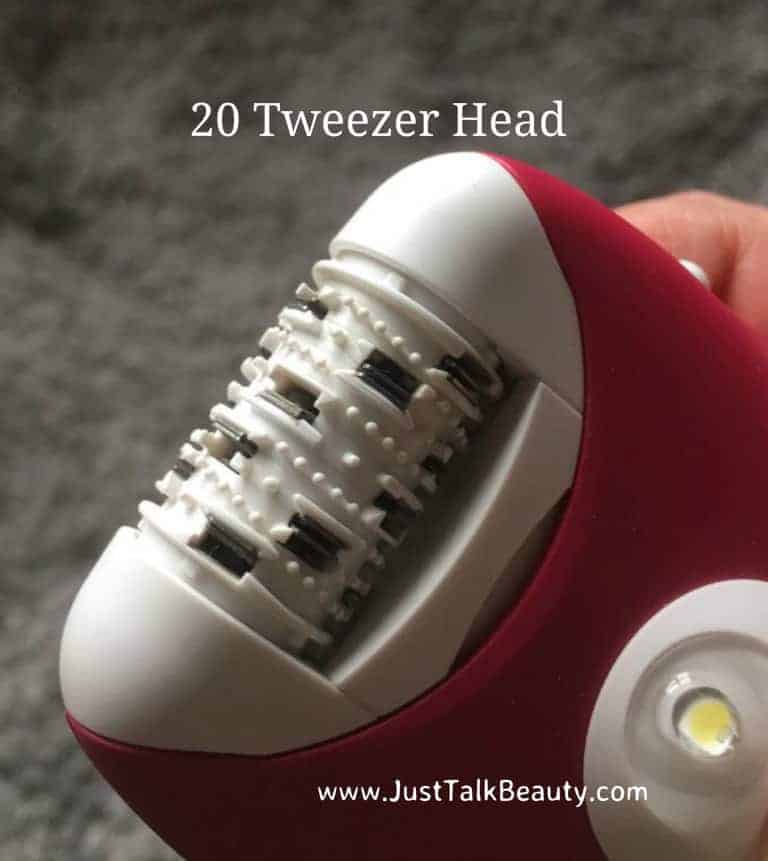 Several passes are required to remove hair. On the other hand, I don't think you'll find any epilator that pulls out every hair with just one pass. Hair grows in all directions, just to be awkward!
Overall, I found it worked very well and fast on the underarms. Legs, yes it worked well but it took time, particularly when I first got started. I used it a couple of times on my arms but I found they were really sensitive. No problems on the bikini line either which was surprising, using the trimmer beforehand.
What About The Face?
For the face, I used it on the upper lip and it worked really well leaving the skin smooth. I found the sensitivity varied on the different occasions I used it, though I'm not sure why. It is advisable when epilating your face, to use it in the evening so your skin has time to calm down afterward.
I tried it for removing that annoying "peach fuzz" many women have and it worked pretty well here too. It must be pointed out, this is not recommended for removing this particular type of hair according to the manufacturer. However it is suitable for upper lip and chin hair.
Who is This For?
The Braun Silk épil 3 epilator is suitable for everyone. None the less, not everyone will find it a perfect fit for them.
This is a great epilator for someone new to epilation. You'll most likely find it at a great price online. The light pink model is less expensive than the raspberry pink one as I've mentioned previously. If you're not sure whether epilation is for you, you really won't want to spend very much money.
Starting out with this is time-consuming! If you are the impatient type – you won't like having to wait a few months until hair growth has become more sparse and it would make a lot more sense to buy a different model. Personally, I wanted to see how this worked out, so I stuck with it.
Final Thoughts – Positives and Negatives
The Braun Silk Epil 3 definitely gets a thumbs up from me! It's a great epilator and does exactly what it's meant to do – remove body hair from the root.
To start with, it's small, corded and is convenient for traveling. In addition and definitely one of my favorite features, is the smart light.
Nevertheless, before you decide to buy this particular epilator – it's worth considering what parts of the body you wish to use it for.
If legs are your primary concern for example, you really would be better off with something that has a higher tweezer count, such as the Braun Silk epil 7.
Additionally, for Braun's top of the range epilators with the latest tech advancements and if your budget allows, take a look at the Braun Silk epil 9.
This epilator will remove body hair, no doubt! But if you are short on time, are not tied to a budget and like some additional extras, then there are better models available. Start by looking at the other epilators from Braun here – Best Braun Epilators
If on the other hand, you don't mind spending time epilating or you are well used to using an epilator and hair growth has slowed down, this is a solid epilator that won't break the bank,