If you are dreaming of being a smooth, soft, hairless beauty for longer than 24 hours then the Braun Silk Epi 9 from the latest series of Braun epilators could be exactly what you've been looking for.
A large number of people have found it to be the right match for them for several reasons. Nonetheless, it's not the perfect epilator for everyone.
The aim of this review is to help you decide if the Silk Epil 9 is the right one for you. Bear in mind, it is the latest line of epilators from Braun so the price will tend to be a bit on the higher side.
In a hurry? Click Here To Check Out Today's Price on Amazon.com


In this review, we're going to look at the device itself, and find out:
What the features are
The different models of the Silk Epil 9
Skinspa and Bonus Edition
How to use the Epil 9 for best results
Where to use it – face, legs, biniki or arms
The attachments and accessories
How to clean the epilator
The battery
Charging the unit
Replacement parts
If you have a particular question in mind, you'll most likely find it covered in the table of contents below.
If not, stick with me and let's get this started…
Braun Silk Epil 9 Series – The Differences in Models Explained
If you're like me, you might find that the task of purchasing the Braun Silk Epil 9 epilator is not as straight forward as you had imagined. You might have come to the conclusion that it is the best epilator to buy since you're on this page. Perhaps however, on further checking, you've discovered that there are in fact a couple of different models to choose from and it's challenging to see at a glance exactly what the differences are.
Some of these models include the Silk Epil 9 961, Epil 9 969, Epil 9 980, Epil 9 561 and Epil 9 579 not to mention SkinSpa and Bonus Edition!
Confusing, I'm sure you'll agree. But don't despair – while it wasn't immediately obvious to me – having performed the necessary research – I discovered that the differences are in the technology, and the attachments and accessories that come in the box.
So let's first look at the latest model and see how that compares to the other Braun Epil 9 versions you'll find available. They do vary in price so it's important that you know exactly what you are getting for your money.
SensoSmart 9 980 Rose Gold Epilator For Women – Pretty!
The rose gold model is the latest version in Braun's new generation of epilators. It has many of the same features as the other Epil 9 models which we will look at in depth shortly, but this is the only epilator that includes both the 40% wider head and the SensoSmart technology.
SensoSmart in a nutshell, is the inclusion of an intelligent sensor – the world's first smart epilator, according to Braun.
The sensor acts as a guide to applying the right amount of pressure as you use the device. If you are pushing too hard, a red light will alert you and you can ease back a little.
The addition of SensoSmart is for more efficient epilation. If you are applying the right about of pressure and moving the device slowly, more hair will be removed per stroke, and let's face it, anything that can make the process of epilation faster and more efficient is welcome.
If you're interested in this model, there are a couple of different options available online – any site I came across had this model displayed with a bikini trimmer – it was advertised with 7 extras including a facial cap, skin contact cap, shaver head, trimmer cap, pouch, cleaning brush and the trimmer for sensitive areas.
Click Here To Check Out Today's Price on Amazon.com

Common Features of the Braun 9 Series Epilators
All models of the Braun Silk 9 epilators share many common features which we will examine here. Further in this review, we'll look at which ones have any extra's so you can see exactly which model is the right one for you.
** 40% Wider Head **
The big difference in the Epil 9 compared to other Braun epilators is the 40% wider epilation head. Now 40% is quite a bit, Braun say it will catch up to two times more hair per stroke. This is really quite advantageous as it will obviously reduce the time it takes to epilate, almost by half.
The process of epilation is not one, I think I can safely say that any woman enjoys and to have the opportunity to reduce the time spent on this activity is definitely a big plus with this model.
The Tweezers – Longer, Wider, Can Catch Hair Up to 4 Times Shorter Than Wax
Another step up with the Braun Silk Epil.9 is the exclusive MicroGrip Tweezer Technology. In previous models, we had close grip where the tweezers were engineered to close at the optimal angle for really close hair removal. Now with Micro grip Technology, there are still 40 tweezers but its the arrangement of those which have given rise to better performance.
They are longer, leading to deeper, more efficient plucking. They are also wider, allowing for more hair to be removed per stroke than before. The result – faster, more efficient epilation and smoother skin for longer as it catches even the shortest hairs that wax doesn't catch.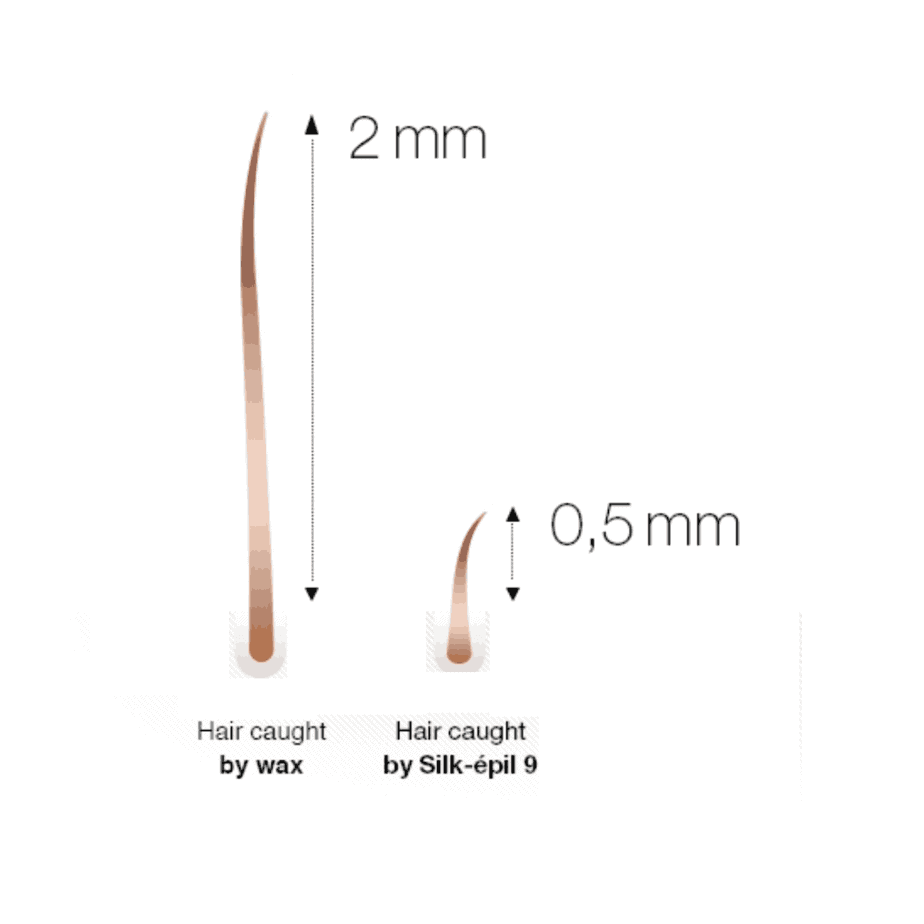 It's Waterproof – Its' a Wet AND Dry Epilator
The Braun Silk Epil 9 is a wet and dry epilator – you can use it in the bath or the shower in addition to on normal-dry skin. It was actually specifically designed for use in warm water and its waterproof up to 5 metres.
Epilation is not an easy process. It takes time to get used to and being able to use this in the bath or shower is really beneficial as the warm water helps to open the pores. This makes for easier and more comfortable hair removal as well as making your skin less sensitive.
Other Common Features of This Series
Pivoting head – The head itself is flexible and can move back and forth up to 15 degrees. This allows for smoother epilation as the epilator can better glide and adapt to the contours of the body. It is particularly useful for under the arms and bikini area.
Cordless – the Epil 9 epilators are cordless. It is fully rechargeable, takes 1 hour to charge for 40 minutes of use.
2 speed settings – there are 2 options for speed on the epilator, the lower one is more suited to beginners and for use in sensitive areas. Once you start using it, you'll most likely switch to the higher setting.
Smartlight – this is actually a handy little feature as you'll be able to see even the smallest and finest hairs. It's very easy to miss a few hairs when doing any kind of hair removal at home especially if the lighting is poor, so this is pretty useful.
Massage system – small rollers located around the head with pulsing vibrations that prime and stimulate the skin for better and more gentle epilation.


Get Smoother Skin With The SkinSpa Exfoliation System
The Braun Silk Epil 9 Epilator has a SkinSpa edition which is as it sounds, a 4 in 1 spa treatment kit for your skin.
It includes the Braun 9 hair removal device along with a range of attachments for epilation, exfoliation and deep massage – 12 extra's, all you need for smooth, soft, beautiful skin.
You get 2 exfoliation body brushes, cup-shaped in a unique triangular way – one which is purple for gentle exfoliation in sensitive areas, where the brush bristles are fine but of a high density to help with the gentle removal of dead skin cells.
The blue deep exfoliation brush allows for more thorough cleaning with new high-performance bristles and sonic exfoliation. This can help prevent ingrown hairs, where the hair gets stuck under the skin resulting in little red bumps, especially when used regularly.
It also includes a deep massage pad which helps with better blood circulation improving the skin's texture and appearance.
The SkinSpa Range
a complete skincare system
Note** If you are interested in the Skinspa Edition, make sure you check the model of the epilator – that will explain the differences in price – there is a 9-990 SensoSmart Epilator available now also.
How To Use It – Go SLOW For Best Results!
The first thing to do to use the Silk Epil 9 is to charge it fully. This takes approximately 1 hour and will give you around 40 minutes of use.
It's cordless so it cannot be used while charging.
This is a wet and dry epilator so you have the option of using it in the bath or shower.
If you are new to epilation, using in the shower is recommended as the warm water will help open to the pores and make for a less painful experience.
Also as a beginner, use it on the lower setting to get the hang of it and once you are happy, switch it up to the higher one.
Hold the skin taut and move the epilator against the direction of the hair growth – GO SLOW! If you go too fast, the hair will get clipped instead of pulled out by the root. This is really important to ensure you get a good result – otherwise, you are defeating the purpose of epilation.
If you've used an epilator before and you are upgrading, you might find it mildly uncomfortable, but if you are completely new to epilating, prepare yourself, this hurts!
Anyone who has used the older style epilators with the coil, such as the Epilady, should find this a breeze!
Years ago, when I saw the Epilady advertised, I had to buy it. I always had very fast hair growth and for smooth legs, I had to shave every day which I absolutely hated. That device looked like a Godsend. I couldn't wait to try it out… but I wasn't prepared for the pain! It was so bad that I just couldn't use it. It felt like mini electric shocks all over my legs. However, I persevered and would take it out every few months and give it a go. What impressed me most was the lack of hair regrowth for a couple of weeks where I was able to manage it and that encouraged me to keep going.


Facial Brush Included With The Braun Silk Epil 9 Bonus Edition
The Bonus Edition of the Epil 9 epilator is the purple one – well the one with the purple top.
Its still got the wider head and the microgrip tweezer technology along with the various attachments but the bonus here is the facial brush attachment.  You can use this in the shower also for convenient exfoliation.
The model is 9-579 and it's the one you'll see with a facial brush included.
Lots of people use manual facial brushes in the shower so this is quite a handy addition, but a couple of reviews I came across mentioned that the bristles could be a bit stiffer.
I guess it all depends on what you have used previously or whether you have ever used an exfoliating facial brush before.
If you don't have any other exfoliating facial tools and depending on the price, the Braun Silk Epil 9 Bonus Edition could be right for you.
On the other hand, if you already have a dedicated face brush and you really just need the epilator, then the bonus edition is a waste of money if you can get the device by itself cheaper.
Braun Silk-épil 9 Bonus Edition
For more info and to read reviews
Can It Be Used For Facial Hair?
The Silk Epil 9 Epilator covers all bases and is suitable for use everywhere.
You can use it freely on your face, legs, underarms, and bikini area if you so wish. There are a couple of attachments that come with the device itself which are targeted for use on the different areas of the body and are pretty handy to have.
The Epil 9 does have a facial cap where it covers over some of the tweezers for a better focus. Some people use the different caps and find them somewhat helpful but others seem to stick with the main or standard cap.
Braun do have a separate facial epilator specifically designed for the face. It's a totally different design, more like a pen, with a narrower head and helps you target smaller areas more easily, giving you more control.
Some people love it because of the smaller head. It's a neat device and can easily fit in your handbag.
Others actually prefer the silk épil 9 because it's bigger.
You can use this to remove hair on your upper lip, the chin or sideburns but I wouldn't use it on the eyebrows for fear of ripping out the whole lot – something that people do ask about. I guess it all depends on your preference.
The Braun epil 9 is a bigger, heavier device when compared to the facial epilator and it can do everything.
If you want an epilator for body hair, get the silk épil 9. If however, you really just want a dedicated facial epilator, and a smaller more convenient tool, then have a look at the Braun Facial model.
It also comes with attachments and exfoliating brushes for cleansing and toning the skin giving you a complete facial care system.
Gotta Be The Braun Face Spa Pro
For a Dedicated Facial Epilator
Braun 9 Unboxing Review – A Look At The Attachments and Accessories
You'll see in the video below what comes in the box – this is the Braun Epil 9 BONUS EDITION – its the one with the facial brush attachment. 
Other models have some of these same extras included but without the face brush.
Having gone through at least a hundred reviews online, one question that cropped up more than once was the noise level – just how noisy is this epilator? Most people don't want the whole world to know it's epilating time!
The good news is that you can hear the kind of noise this makes in the video below – (1:11 minutes)
Guide To The Caps and Extras
High Frequency Massage Cap – 2 rows of bead type rollers that massage and stimulate the skin for more comfort and gentle epilation. This is standard cap which is suitable for everywhere – rose gold in the latest model and purple here.
Skin Contact Cap – for maximum skin contact, recommended when you are used to epilating as it moves very close to the skin. Suitable for more sensitive areas like underarms as it adapts to the shape of the body.
Facial Cap – designed for harder to get at the hair especially on the upper lip.
Trimmer Cap – epilator hair removal is easier if the hair is not too long especially in sensitive areas . The trimmer cap is ideal for trimming the bikini area.
Shaver Head – you can turn your epilator into a shaver with this handy shaver head, just press the button at the back to pop this on. Useful for body parts that you are not epilating or when you are trying to grow hair to the same length
Charging Stand – allows you to leave the epilator out on a dresser for easy access apart from the necessary charging times
Cleaning Brush – easily clean the epilator after use with this small cleaning brush
Storage Pouch – keep all attachments in one place
Smart Plug – for dual voltage use
Charge Time, Voltage and Battery Information
How to charge the Epil 9 epilator
These are dual voltage epilators and can be used in outlets from 100v-240v .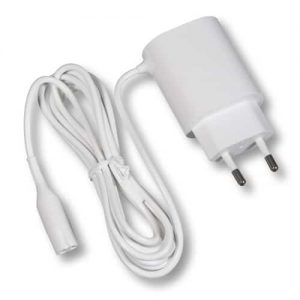 Charging is straightforward – it has a fully rechargeable li-ion battery. Some models take about 1 hour which will give you 40 minutes of continued use.
The Epil 9 890, on the other hand, takes 2 hours to charge according to the manufacturer's website but you will get 50 minutes of use. This is most likely something to do with the smart sensor as this is the only model with this technology and the only one that takes this long.
You should find this is ample time to defuzz, but if you are just starting out with this method of hair removal, you'll have more hair and you will have to move quite slowly so you might find yourself hard-pressed to complete both legs.


Good News! Hair Regrowth is Finer
Once you've used it a couple of times however, you'll find that hair regrowth is a little less as well as a bit finer and one battery charge is plenty of time. You wouldn't really want to spend more than 40 or 50 minutes on the whole process anyway!
You can actually leave the device out on a dresser as it comes, conveniently, with a stand. That way you can grab it easily and use it on the fly without having to prepare yourself for a major de-hairing event. It will always be ready to go and fully charged up. When you keep up with regular epilation, you'll find the whole experience is easy and less stressful.


How To Clean The Epilator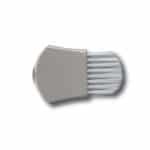 Cleaning the epilator is easy.
You will find some hair in around the head when you take the cap off, but it's easy to brush them out with the small standard cleaning brush supplied in the box.
You can also rinse it under running water.


Can You Replace The Head?
Replacement Parts and Warranty Info
One of the great advantages, when you buy a product from a company as solid as Braun, is the availability of replacement parts should you ever need them.   
These epilators come with a 1 year warranty which will cover you should you have any problems.
You can however, extend the life of your epilator with the range of replacement parts available if something happens outside the warranty period. 
Both the shaver head and the epilator head are available along with the caps, the power cord, brushes and charging stand.


What's The Price of the Braun Epil 9?
One of the main questions people appear to have about the Silk 9 is the price. It's actually one of the reasons I wrote this review article because I found it quite confusing too. However we've already looked at the reasons for this – the different models available along with the various range of attachments.
Despite that making a lot of sense, I have come across these at various price points on different websites.
If you are considering buying one, I've summarized the different models here along with a pointer as to what the key features or differences are. 
It's really only by comparing the different versions that you'll be able to see at a glance which one offers the best value for you.
Features
Braun Silk Epil 9
9-890
Braun Silk Epil 9 9-579
(Bonus Edition)
Braun Silk Epil 9
9-5 21
SensoSmart Technology
Yes
No
No
40% Wider Head
Yes
Yes
Yes
Wet and Dry
Yes
Yes
Yes
Bikini Trimmer
Yes
No
No
Shaver Cap
Yes
Yes
No
Facial Brush
No
Yes
No

Price on Amazon.com
Check Today's Price
Check Today's Price
Check Today's Price

** Sensosmart Technology ** – written on the epilator just above the light
** 40% Wider Head
** Wet and Dry
** Cordless – comes with bikini trimmer and shaver cap
Braun Silk épil 9-9-890
To check the price and read reviews
** Comes with facial brush ** Bonus Edition
** 40% Wider Head
** Wet and Dry
** Cordless – also shaver cap
Braun Silk épil 9-9-579
To check the price and read reviews
** NO Shaver Head **
** 40% Wider Head
** Wet and Dry
** Cordless
** One of the cheaper versions as only 2 caps


Braun Silk Epil 9 9-521
One of the less expensive models
** SkinSpa Edition**
** 40% Wider Head
** Wet and Dry
** Cordless
** Shaver Cap


** SkinSpa Edition**
** SensoSmart**
** 40% Wider Head
** Wet and Dry, Cordless
** Shaver Cap & Bikini Trimmer
Most expensive as its the SensoSmart and SkinSpa edition
Is the Braun Epil Silk 9 Worth The Money?
If you want fast, precise epilation, a product from a company with a solid history and are someone who likes to have the latest advancements in whatever gadget you are buying, then yes the Braun Silk Epil 9 epilator is worth the money.
The 2 main reasons for this are
the wider epilation head – its 40% wider than previous models and
the second is the 40 tweezer arrangement, designed for deeper plucking and also plucking more hair per stroke.
Both of these features combined aim to reduce the time spent epilating as well as to make the whole process a more comfortable and pain-free experience. I don't know about you but anything that can speed up the time spent on epilating body parts is totally worth it.
If you do decide to invest in this model, and it is more expensive than many other epilators on the market – you'll have a certain peace of mind knowing you can purchase replacement parts easily.
If, on the other hand, you really don't want an all singing all dancing epilator, then there are several other models to look at. The Braun Silk épil 9 is one at the higher end of the spectrum.
The Silk-Epil 7 is worth checking out – Click Here To Find Out More About that Model – or
The Silk-Epil 3 – it's much less expensive than the epil 9 – it's a smaller epilator but still does a decent job.


Which Model – Should I Get The SilkSpa Exfoliating System?
The addition of the various attachments that come with the Braun 9 SkinSpa editions provide all you need for really smooth, silky and gorgeous skin. This is definite luxury and an absolute dream for some.
Others feel that they wouldn't use these attachments very much and they might end up at the back of a drawer somewhere gathering dust. Ingrown hairs are not an issue and they have their own preferred method to exfoliate.They might also not have the time or inclination to use them and really they are surplus to requirements.
The SkinSpa edition is a bit more expensive so think how useful these attachments will be for you in your life. 
If, however, you are considering a Braun Silk Epil 9 as a gift for someone, I would definitely opt for the SkinSpa model for an all-round smooth skin experience.


Is There a Manual or Instructions?
Another question people have about this epilator is in relation to instructions.
An instruction booklet does come in the box and the device itself is easy to use. You can also find a manual online if you are looking for more support or have specific questions.
Click Here for the support page.


To Summarize…


** BEST SELLING ** Braun Silk épil Epilator is the 9-579
According to online sites, this is one of the best selling models
Comes with the facial brush and 7 other attachments
Has all the other features of the latest series of epilators from Braun
It does not have SensoSmart technology
It does not have massage /exfoliation pads
Braun Silk épil 9-9-579
To check the price and read reviews
** TOP RATED ** Braun Epil 9 is the 9-890
The 9-890 model is the top-rated epilator according to many websites online I checked.
It's the latest version with * SensoSmart Technology
Has all the other features, wet and dry, cordless etc.
Comes with the bikini trimmer which is a very handy tool
Braun Silk épil 9-9-890
To check the price and read reviews
** LOWEST PRICED** Braun Epil 9 is the 9-521
This is the cheapest of the Braun Epil 9 epilators
Has all the other common features, wet and dry, cordless etc.
Has just one other cap
Braun Silk Epil 9 9-521
One of the less expensive models